So you need a new UTV. And perhaps you want it to do more than simply chug around the farm. Polaris and Yamaha have got you covered.
Choosing your next UTV is no longer a simple task with so many options out there. We're pitting the industry leader, the Polaris Ranger, against another rock-solid Japanese machine, the Yamaha Viking. 
While Polaris offers tons of Ranger models to cater to all kinds of outdoor needs, the Yamaha Viking sticks to a simple formula, which it executes well.  
Let's see how they match up.
All-rounder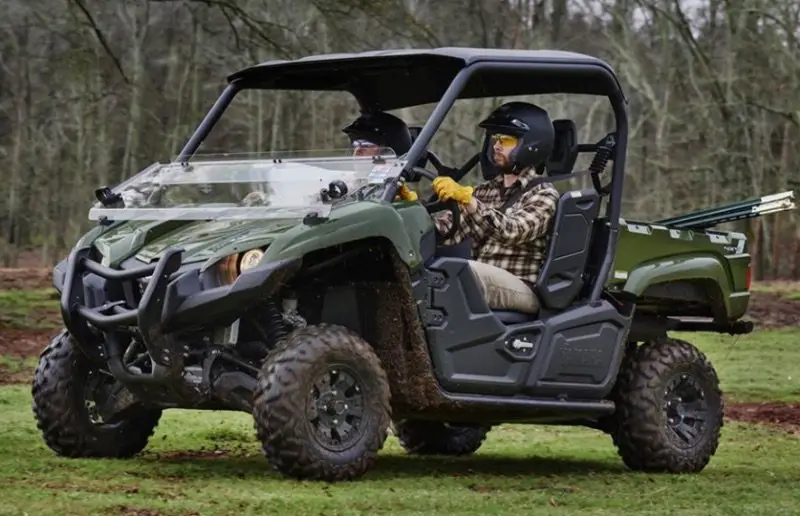 The three-seater Yamaha Viking EPS knows what it's about. It has the tools to turn its hand to any task you throw at it, and do a damn good job. 
All Vikings are equipped with Yamaha's compact and capable 686cc engine. It'll comfortably haul 1500lb, and is more than happy off the beaten track. It'll conquer steep terrain and obstacles, and canters along flat trails quickly enough. 
Yamaha throws loads of impressive features in as standard. Every Viking comes with power steering. Most UTVs, including the Ranger, only offer this as an upgrade. And its On-Command system allows you to switch between 3 different drivetrain modes so you can traverse any terrain with ease.
You'll also ride in comfort. The roof keeps the sun and rain off and there's loads of legroom for all three people in the cab. However, while the half-doors provide easy access, they also let in plenty of dust and mud.
Yamaha has ensured a solid, high-quality feel throughout the Viking, right down to the little details. For example, the 600lb-capacity dump bed is all steel. No plastic panels like you'll find on most other UTVs. It even comes with a rubber floor mat to ensure your payload doesn't slide around. 
And you won't have to buy rock sliders as add-ons, as you do with many other UTVs. Steel bars protect the Viking's bodywork along the bottom of the doors and to the rear of the dump bed.
The Viking's systems are tried and trusted. The engine's been honed over many years in their ATVs. And its Ultramatic transmission reduces belt wear, giving you prodigious reliability.
Yamaha doesn't mess about with any budget options, as Polaris does with the Ranger 500. This cheap and cheerful two-seater machine also tows 1500lb and will plod on with most farm jobs, but not much else. The Ranger 570 offers a little more oomph, but you'll need to upgrade to Premium to get power steering. This brings it to almost the same price as the Viking.
The Polaris Ranger EV is an interesting option if you's like to keep fuel costs down and give our livestock a bit of peace and quiet. This electric UTV is almost silent and will go 30-40 miles on a single charge. 
Powerhouses
While the Viking sits proudly in the mid-range 700 class, the Ranger makes the leap from 570 straight up to 1000. 
The entry-level Ranger 1000 costs the same as the Viking, but comfortably outmuscles it, hauling 2500lb. However, you'll need to fork out to upgrade to power steering, which ups the price considerably.
If you've got money to spend, Polaris offers plenty of high-end options.
For a machine that will dominate farm work all week then get the blood pumping on the trails at the weekend, The Ranger 1000 XP is a great choice. Its rip-roaring 82hp sends it along at over 60mph. More than enough to raise some hairs. It also comes with bigger tyres and improved suspension.
If that isn't enough, the Ranger 1000 XP Trail Boss packs even heftier tyres and gives you even more suspension travel. No terrain can stop it.
And if you want to do all of this while sitting in the lap of luxury, you can opt for the Northstar trim. This gives you a fully enclosed cab with temperature control. However, this comes with an eye-popping price tag, double that of the Viking.
Yamaha does offer an improved trim with the Viking Ranch Edition. It comes with snazzy metallic paint, overfenders and aluminium wheels, but performance and capability are unchanged.
Haul half a dozen
Need to carry yourself and five more people to a repair job? Or maybe take the family for a ride through the wilderness? Not a problem for the Ranger and the Viking.
Both are available with six seats and a lengthened wheelbase so you still get a full-size dump bed. The Viking VI packs the same 686cc engine as the three-seater, so it might feel the strain when all six seats are filled. It's available in Ranch Edition.
All Polaris's trim options are available on their six-seater Ranger 1000 Crew models. The bigger engines will enable you to carry a full squad without losing out on performance. 
Conclusion
The Yamaha Viking is a worthy and capable UTV. It has the power to handle pretty much any job and is built to a very high standard. It feels solid, practical and comfortable. And the top-notch engineering will ensure your machine lasts for years. While it's no speed demon, it's lively enough to provide an enjoyable ride through the wilderness. 
However, if you're looking for something specific from your UTV, you've got more options with the Ranger. Also, if you've got massive loads to pull or you want a more thrilling experience around the trails, the Ranger XP's superior engine has the muscle to do it.