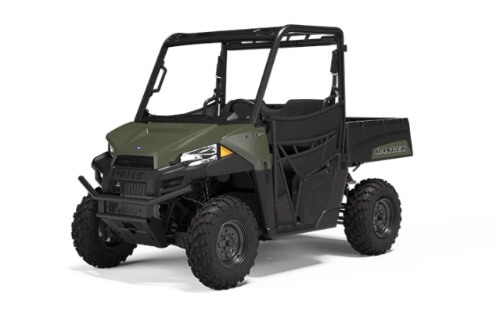 Whether you own a few acres of vacant land, a farm, or just find yourself having a much harder time getting around these days, you cannot go wrong with a Polaris Ranger, a name that has become trusted and respected in the ATV-industry as one of the most reliable UTVs. That being said, both the 500 and 570 are pretty much mid-size UTVs. So how do the two models compare?
Polaris Ranger 500 Review
When it comes right down to it, the Pioneer 500 dominates the utility side by side world. It is a highly commendable utility vehicle with a suspension clearance of 58 inches. Many models available today don't offer near this, which really reduces the towing and hauling power.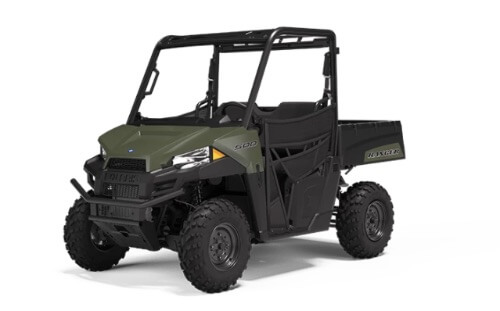 In addition to this, the Ranger 500 boasts 58 inches of width, which is equally impressive. Being a bit more than other models, it offers more power and more hauling room. On the downside, the larger width can limit where you travel.
This being said, 58 inches isn't too much to handle. In fact, some people may find it perfect for enjoying a few hours in the open terrain.
Unfortunately, the Ranger 500 is only available in automatic transmission. This means that all the gears are shifted for you as you drive, which is an option some prefer. Regardless, the 500 does not offer manual shifting, which may or may not play in your favor.
This certainly doesn't make a huge noticeable difference in the performance of the vehicle though. This is all in part thanks to the innovative and powerful ProStar 500 engine that is capable of producing 500ccs of power. The motor is a four-stroke that offers plenty of power and top of the line performance. The liquid-cooled technology minimizes the risk of overheating.
The Ranger 500 is a class leader when it comes to towing and hauling. Haul hunting gear, another ATV, small farm equipment, and other accessories with ease. It is difficult to beat a 1,500-pound towing capacity when it comes to UTVs.
When it comes to the suspension, you get a 2WD/AWD/VersaTrac TurfMode system. While many do not consider the 2WD/AWD all that impressive anymore because they are so common, it is hard to scoff at the VersaTrac TurfMode. This feature is specifically designed to prevent the wheels from digging into the ground on initial movement. It also ensures a speedy takeoff.
The bed box measures 42 inches in width, providing plenty of space for small equipment and other gear. But, keep in mind, the payload capacity is 1,000 pounds. This basically means you can safely haul your gear and a passenger just about anywhere. Just make sure you do not exceed the payload capacity. Doing so will put unnecessary stress on the motor and frame, resulting in a shortened service life.
The 500 has measured in at about 1,065 pounds (dry weight). This is about average for larger ATVs, as it is difficult to find a model that weighs more than 1,170 pounds.
From end to end, the 500 has 110 inches in length. From side to side, it measures 58 inches in width. These measurements are important because they will determine if your existing ATV trailer is suitable or unsuitable for hauling. Going from an average ATV to the 500 generally calls for an upgrade.
The 9-gallon fuel tank capacity minimizes refilling during cross country excursions. For each gallon of gas, you should get between 15 to 20 miles of travel. However, this is only an estimate. 
Polaris Ranger 570 Review
 When it comes to Polaris UTVs, models 500 and 570 are to be reckoned with. Both models are top-of-the-line with similarities and differences. As far as the engine goes, the 570 wins by a long shot. The onboard 500cc engine by ProStar may be the determining factor for most consumers. It is integrated with 32 horsepower, making it the better performing UTV.
The 570 is large enough to support two adults. The bed box measures in at 32" L X 42" W X 11-1/2" H, which is ideal for hauling small- to medium-sized pieces of equipment, tools, and other gear. The 1,000-pound payload capacity will support the driver, a passenger, and gear.
Another benefit of the 570 is its fuel capacity. The 9-gallon fuel tank will reduce the number of refills, allowing for longer excursions between each refill.
The towing capacity is another important measurement. This is especially true for those who plan on utilizing the UTV as a towing vehicle. The 1,500-pound towing rating is ideal for towing small equipment, a utility trailer, and another ATV.
The Polaris Variable Transmission (PVT) system is automatic with three major components – driven clutch, drive belt, and drive clutch. The PVT plays a major role in the initial take-off, as well as backshifting and upshifting.
Polaris does not recommend altering its PVT other than routine tuning. Even this should only be performed by Polaris or a professional ATV mechanic.
The drive clutch is responsible for monitoring the Revolutions Per Minute (RPM) generated by the 500cc engine. When the driver increases the RPMs, the coil spring increases as well. This is a very complex process that most ATV enthusiasts are familiar with.
There is ample ground clearance for scaling over rocks, ruts, small- to medium-sized logs, ditches, mounds of hard dirt, and other items found on rough terrain. There is a total of 10 inches from the lowest point to the ground.
The braking system utilizes hydraulics to minimize the driver's effort. This is a very reliable braking system that is guaranteed to endure the test of time. Regardless of your speed, engaging the hydraulics braking system will require little effort.
Conclusion
The Polaris 500 and 570 share some of the same features. But, the larger engine sets the 570 apart from the 500. Depending on your UTV needs, more power may be in your best interest. However, the price variance must be taken into consideration. The 500 will set you back an additional $1,000.
The Polaris Ranger 500 vs 570 comparison provides in-depth data that can help you decide which model is best for you.