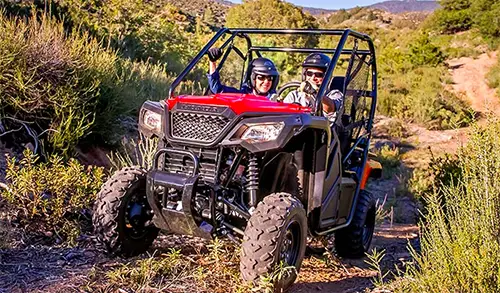 So you want to know which UTV to buy? Well, the problem is, there are so many of these pint-sized powerhouses that choosing the right one depends on what you're looking for. Need a cheap and compact machine to nip around the farm? Or do you need a beast that's going to haul some heavy gear? Maybe you just want to get the adrenaline pumping around the trails?
Both the Ranger and the Pioneer come in a range of models to suit different needs. So we're not going to present you with a single machine that rises above all others.
However, these two heavyweights of the UTV arena are about to go toe-to-toe. When the dust settles, you'll have a better idea of which machine is right for you. 
Polaris and Honda lead the market for global UTV sales, so you know you're getting tried and trusted quality whichever you choose. 
You'll find all kinds of tough terrain in the US: deserts and mountains, forests and fields. The American-made Polaris knows how to conquer it all. 
With Honda, you know you're getting world-renowned engineering and refinement. Both offer plenty of options, so let's have a look at the line-ups.
Range of models
Compact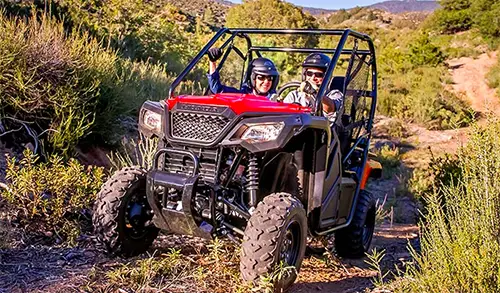 Let's start at the bottom. Both Polaris and Honda's basic offering is a two-seater, 500cc machine. while the Ranger 500 is a touch more expensive, it has more oomph and is slightly bigger. It also has a larger fuel capacity; handy if you've got a wide area of wilderness to cover. The Pioneer 500 boasts Honda's legendary reliability (and therefore greater resale value). 
Both models offer a more muscular version of the entry-level machine. The Pioneer 520 and the Ranger 570 both come with increased pulling power, power-assisted dump beds and a range of options for customisation. 
If you're looking for a compact UTV that'll handle most jobs and is fun to drive, you won't go far wrong with the Ranger 570. There's even a 'Full Size' three-seater version available if you'll need space for an extra pair of hands but can't stretch to the 1000 class. 
Mid-range
while the Ranger leaps from the 570 to the much larger 1000 class, the Pioneer does offer a mid-range 700 class. The extra power and dump-bed capacity mean it'll handle heavier work than the Ranger 570. 
It's a great option if versatility's what you need. The Pioneer 700-4 is rigged with Honda's Quick-Flip function, which enables you to switch between a comfortable four-seater and a two-seater with 1000-lb dump-bed capacity in seconds. The downside is that if you have the seats up, you can't use the dump-bed, so you'll need to choose between carrying extra manpower and load capacity. 
The Pioneer 700 is a great all-rounder, offering hefty pulling power while still being nimble enough to navigate tight areas. 
Flagship
We're mixing it with the big boys now. The Pioneer 1000 and the Ranger 1000 are the meatiest offerings, and both come with a selection of upgrades and premium options. Let's look at the entry-level 1000 models first. 
while the Pioneer does cost a bit more, the Ranger is actually the beefier of the two machines. It boasts a more spacious cabin and a bigger fuel tank, as well as greater capacity in both the dump-bed and towing. 
It also has the edge when it comes to horsepower, so it'll be a shade more thrilling when you're zipping along the trails. Its superior suspension will also offer you a smoother ride on rough ground.
So, at entry-level, the Polaris Ranger 1000 offers you more space, power and range for a slightly lower upfront cost. However, don't discount the Honda. Its famous reliability might save you money on repairs and replacements later down the line. And the Honda has plenty of features that might suit your needs.
Later on, we'll take a closer look at some of the unique features each brand has to offer. These could make all the difference to your decision. 
Before that, let's examine some of the premium offerings for the 1000 class. 
Honda Pioneer
The Pioneer 1000 Special Edition is packed with awesome upgrades. If you meet anyone out on the trail you're sure to turn heads with the SE version's urban camo graphics, LED lights and blacked-out wheels. It also comes prepared for some serious graft, with a 4,500lb winch. 
Like the Pioneer 700-4, the Pioneer 1000-5 model is equipped with QuickFlip functionality. So when you want to take the family out for a spin, simply pull the seats up from the dump-bed and away you go. 
There's also a Pioneer 1000-5 Special Edition that comes with all those snazzy features, so you and up to four passengers can rip around the country in style.
Polaris Ranger
Polaris offers more options than Honda. Deciding which one's best depends on what you're after. Some are built to conquer any task, others are designed to provide you with a bit of luxury on your adventures. 
The Ranger 1000 XP is the upgraded version of Polaris's flagship UTV.  And boy is it tough. With a 2500lb tow capacity and 1000lb dump-bed capacity, it has considerably more pulling power than any of the Pioneer 1000 models. 
And with eleven inches of suspension travel, you'll have a comfy ride over just about anything. If you do have to cross any particularly hostile terrain, the full-body skid plate will protect the vehicle's underbelly from nasties such as stumps and rocks. 
If you dream of cruising through the wilderness in comfort, the Ranger 1000 XP NorthStar Edition will get your juices flowing. It packs all the power of the XP and has loads of extra features to level up the luxury.
Its fully sealed cab with heating and air-conditioning will ensure a pleasant ride in all seasons. It also comes with in-built speakers and the Ride Command infotainment system, as well as little touches like contoured seats, storage compartments and cup holders. It's almost like being in a car. It costs about as much as a car too – those luxuries add up to a hefty price tag. 
The Ranger 1000 XP Trail Boss is built to feel at home grafting on the farm and bounding around the trails. Larger tyres and independent (rather than dual) suspension mean the Trail Boss is more assured than the 1000 XP. It doesn't feel like a huge difference when you're out there though, so you'll need to decide if the additional cost will be worth your while. It doesn't come close to feeling like a sports UTV (such as the Polaris RZR), so if recreational driving is your focus, you'd be better off looking at those.
And if you can't choose between toughness, enjoyment and luxury, the Ranger 1000 XP Trail Boss NorthStar Edition rolls them all into one. It comes packed with all the upgrades Polaris could fit in, and the price reflects that. It's well over double the cost of the entry-level Ranger 1000.
Now you've seen the line-ups. You might still be undecided about which machine is best for you. So we've picked out these unique offerings that might just tip the balance for you. 
Unique Features
The Crew's Colossal Capacity
We've mentioned that the Honda Pioneer is available with the QuickFlip feature, which enables you to convert the dump-bed into two extra seats. It's a handy capability, but has the drawback of making you choose between extra passengers or extra load. 
However, the Polaris Ranger Crew models insert an extra row of seats in front of the dump-bed, allowing extra passengers without sacrificing load capacity. The Ranger Crew 570 increases from two to four seats, while the Ranger 570 Full Size and the Ranger 1000 Crew models increase from three seats to six. 
Yes, you read that right. You can transport up to five passengers AND load up your dump-bed.
Transmission triumph
All Honda Pioneer 1000 models come equipped with the super-advanced Dual-Clutch Transmission. This clever bit of kit combines the ease of an automatic with the power of a manual.
It's effectively a 'smart' gearbox. It reads your driving style and adapts the transmission to suit it. If you like to potter around at a relaxed pace, it'll change gears at lower speeds to keep the ride smooth and quiet. If you like throwing it around the trails at speed, it'll wait until you hit a high RPM before changing gear. 
This means that even though the Pioneer might lag behind the Ranger when it comes to power, this smart transmission system will ensure that it's just as great to drive. 
It doesn't even have a belt, so you don't need to worry about it snapping when you're miles from home.
Electric UTV – easy on the ears and eco-friendly
The Polaris Ranger EV is one of the only electric UTVs on the market. This two-seater is surprisingly powerful, matching the Ranger 570 and the Pioneer 700 for towing capacity. It does lack the speed of the petrol and diesel-fuelled machines though. 
It's a much greener option, and a full charge gives a range of 30-40 miles – plenty of days' work on the farm. And its noiseless engine will ensure you don't disturb your livestock whenever you ride out to check on them. You'll save on fuel costs, but batteries are pricey and will need to be replaced every few years. 
Verdict
If all you're looking for is a solid, dependable machine to tackle all of your outdoor jobs, you won't go far wrong with the Pioneer. It's got more than enough power, comfort and manoeuvrability to get just about anywhere. You know that your purchase will see you for a good few years without any trouble thanks to Honda's long-established engineering prowess. 
However, if you're looking for a bit more from your UTV, the Rangers have more to offer. They come with a few more bells and whistles, and provide that bit more power, space and comfort. You'll also have a bit more fun if you want to take it for a spin round the trails, and you have the option to ride in supreme comfort (if you have the budget).