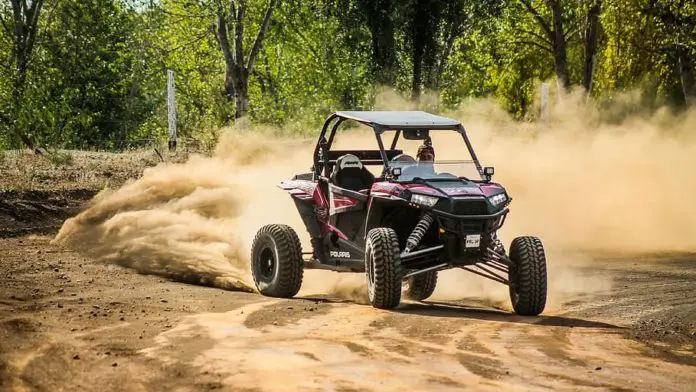 The UTV market is rapidly growing when compared to the ATV market as they are safe to drive, easy to handle and are one of the best vehicles to cruise and have some fun with on weekends. With the market is filled with more than 140 different UTV machines with more than 16 brands competing with one another, it is a tough ask to choose the most reliable UTV that suits your requirements. Therefore, we have come up with this guide that showcases some of the best UTVs on the market.
Polaris Ranger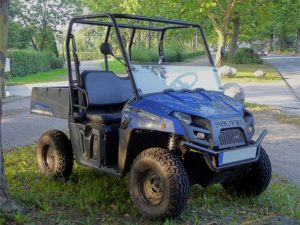 When it comes to choosing the most reliable UTV, the Polaris Ranger is undoubtedly is one of the best. Even though the Polaris Ranger is a bit expensive, it is well worth every penny spent. The basic model is priced at around $5,499, whereas the most advanced version with all the added accessories will cost you a whopping $27,999! See how the Polaris Ranger 500 and 570 compare.
Weight ranges from 1,342 pounds for a single-seat model to 1,936 pounds for the Crew version.  All the excellent vintage Polaris features can be found, and a few have even improved. Storage is excellent with the Polaris Ranger, and the comfort levels have certainly gone a notch higher with thickly padded seats.
The Ranger is completely tested on all terrains, and Polaris continues with the innovation spree, which is visible with the Polaris Ranger. It is available in various options including single-seat, two-seater, three, and six seaters. You can also choose between 500cc to 1000cc engine capacities. The motor is currently a 999cc Pro Star twin-cylinder, 4 stroke that generates 82 horsepower. 
The latest Ranger comes with a complete overhaul of the interior with comfy padded seats that make long driving a breeze. The dashboard is improved with controls focused on ease of use. Adding attachments has become easier than ever because of an improvised electrical system that provides plug and plays used. Installing a winch takes just thirty minutes. 
Yamaha Wolverine X2 R-Spec
Yamaha is one of the top brands in the UTV sector, and they have one of the best in class CVT transmissions. They were the first ones to introduce power steering to UTVs. Within months of releasing the X4, Yamaha launched the X2 that uses the same engine and chassis of its predecessor. Even the engine and transmission are almost the same as the familiar fuel-injected 847cc engine. 
The cargo area that was present in the back is now turned into a "dumping" section that will help you handle large loads easily. It also boasts the all-new and improved Adventure Guru GPS unit that will help you out in the woods.
Like its predecessors, the X2 R-spec also comes with KYB shocks installed at all four corners of the UTV that will enable the ride smooth and comfortable. The X2 R – Spec is well-known for its excellent handling capacity, along with an engine that runs very quietly. 
Can-Am Maverick Sport 1000R
Can-Am has been putting a lot of effort into building the best UTV out there, and they have launched some great models in the past, but with the launch of the Maverick Sport 1000R, they have really made heads turn. Suddenly Can-Am comes under the spotlight with this ultimate 100 hp 1000R. 
If you are looking to have some tremendous fun out in the trials, then look no further than the Maverick Sport 1000R. It combines crisp power delivery with a comfortable cockpit and amazing suspension action. This is definitely a machine that you're going to want to have in your garage if only long enough to gas up so you can go at it again. 
The design provides the chassis with more equilibrium and improves handling due to fantastic suspension setup. One fact we enjoy about that system is how well it copes with demanding terrain.
Textron Wildcat XX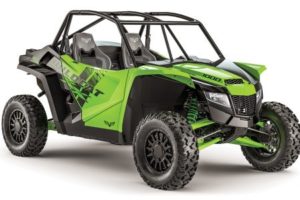 While we didn't believe that the Wildcat XX would ever go into production, the UTV has been launched successfully. We know that this UTV came out of production after Textron merged with Arctic Wildcats to form a single entity. Not only the companies merged, but their technology and expertise merged and this can be clearly visible with the Wildcat XX.
It's powered using a superior inline 999cc engine that runs very smoothly, generating 125 horsepower. It also packs an excellent CVT transmission with the best in class clutch along with closed-loop digital fuel injection. 
CFMOTO ZForce 1000 EPS LX
Even though it can be argued that CFMOTO UTVs are only popular due to their extensive advertising, we still need to accept the more beautiful things that you can see on this UTV. The CFMOTO ZFORCE 1000 EPS LX is powered with a 962.6CC V twin, 8-valve, liquid-cooled, four-stroke motor using a 91x74mm bore and stroke and a 10.6:1 compression ratio.   
Frequently Asked Questions (FAQ)
Who makes the best side by side UTV?
When it comes to the best side-by-side UTV, Kawasaki is truly the leader in this sector and delivers great UTV models that are superior in all aspects, including ride comfort, handling, power, and speed.
What is the most reliable ATV brand?
Undoubtedly, Honda is the leader when it comes to reliability. When Honda commits something, you can be 100% sure that it will do precisely the same thing as promised. That is the kind of commitment Honda gives into its design and construction of ATVs making its UTVs the most reliable UTVs on the market.
---
More information
For more information on choosing the right UTV, check out some of our other buying guides: