Ready to hit the road? Buying an ATV can be a daunting task; especially when you want to make sure you're getting the highest quality vehicle for your investment. Hopefully, I'll be helping to make your decision a little easier by explaining the best Chinese side by side brands to consider when making your purchase.
Best Chinese Side by Side Brands 
1. TaoTao
TaoTao Vehicles Company is a well-trusted manufacturer of various types of vehicles, including ATVs, dirt bikes, go-karts, scooters, and more. They are prolific domestically and internationally; and they pride themselves on having the highest quality vehicles possible at "family-affordable prices." TaoTao has a vast number of different ATV types for consumers to choose from, made for different experience levels with different colors and features.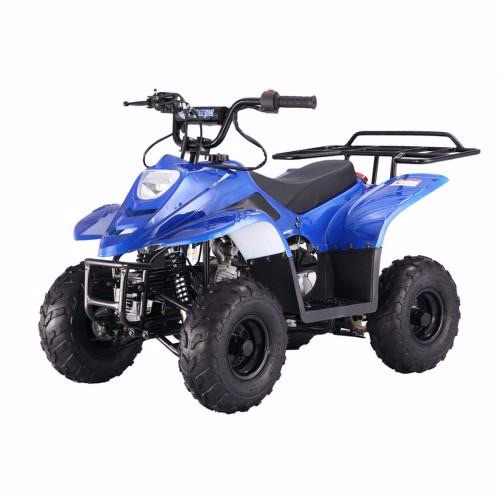 If you're looking to get your child started on off-roading, TaoTao small-size ATVs for beginner kids, like the BOULDER1, sit at around $800 and ensure extra safety features to keep your children out of harm's way.
For the parents, TaoTao has a number of medium-sized utility ATVs with a variety of different features to choose from. Personally, I recommend the New TFORCE, as it includes TaoTao's brand new 125cc four-stroke engine and optional speed controls. This ATV comes in at around $1250, a steal for a vehicle with an engine this good.
And for our tree-huggers, they also have the E1-500, which is a sustainable electric ATV that costs $535.
2. X-PRO
X-Pro is another fantastic option for families seeking off-roading fun at reasonable prices. Famed for their quality vehicles and customer service, you're sure to be satisfied with your purchase if you go through them.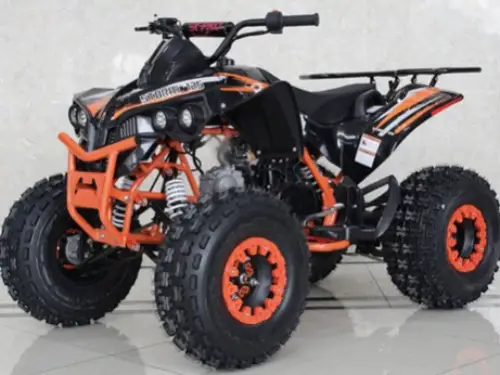 X-Pro has multiple ATV options for children with exciting designs to peak your child's interest. The X-Pro Eagle 40cc kids ATV has nine different options for exterior designs with a max speed of 15mph and speed limiter at $720.
Adults will enjoy watching their children from their X-Pro 125cc ATV with eight exterior design options and a four-stroke engine and a max speed of 35+. You'd also be pleasantly surprised to hear that this one hardly breaks $1,000, too. With great service and prices like these, X-Pro is a great ATV supplier for the whole family.
3. Linhai
For more experienced riders looking to spend a little more for a higher-quality all-terrain vehicle, Linhai may be the right choice. Their website lists only 6 ATV options, and none of them are kid sizes. Linhai is the option for adult buyers who want a powerful vehicle for impressive performance to get them through all kinds of terrain.
One of their most popular ATV models is the M550L, which costs around $5,700. It's a splurge, but it's as light as cast-aluminum can be made and includes 9.9 inches of ground clearance. Its powerful four-valve engine maintains fuel efficiency while allowing for power, no matter what temperature or altitude.
The LH400 four-wheeled ATV, which sits around $4000, offers a similarly powerful four-valve engine with four color options. It has plenty of storage space with a rack on the front and back of the vehicle and has a towing capacity of 200kg. This durable vehicle is the perfect option for someone looking for a high-performing ATV at nearly two-thirds of the price of the M550L.
4. CFMOTO
The final brand on this list, CFMOTO, is another option for seasoned off-roaders looking to purchase the highest-quality ATVs possible. CFMOTO has three main types of off-road ATVs for consumers to consider.
The first series, the CFORCE, is a single-rider ATV that includes projector-beam headlights and a stainless-steel bumper. With a 3000lb winch and a towing capacity of 1000lbs, this ATV is made for the long haul. One ATV in the CFORCE series, the CFORCE 600, has four color options and comes in at around $6000.
Their ZFORCE series is a two-seater type of ATV complete with a roof, rebound adjustable shocks and 12" ground clearance; this series focuses on sport. Doors ensure riders will stay safe inside the cabin and it has room for storage with cargo sections and side nets. The XFORCE 800 Trail costs $11,000 and has 3 color choices.
CFMOTO's last ATV series, the UFORCE, is a two-seater ATV that places emphasis on utility, evidenced by the large cargo dump box, impressive towing capacity, and heavy winch. The UFORCE 800 specifically comes in at $11,000 and has a 1250lb towing capacity with a 3500lb winch. This vehicle was clearly made to last.
These are the four best Chinese side by side brands that offer all-terrain vehicles at varying price points with differing features, meaning there's a great option for every consumer regardless of what you're buying it for. TaoTao or X-Pro ATVs offer affordable family off-roading fun, and Linhai or CFMOTO ATVs are the choices for a high-quality, powerful off-roading experience. You should choose the option that works best for you. Happy riding!