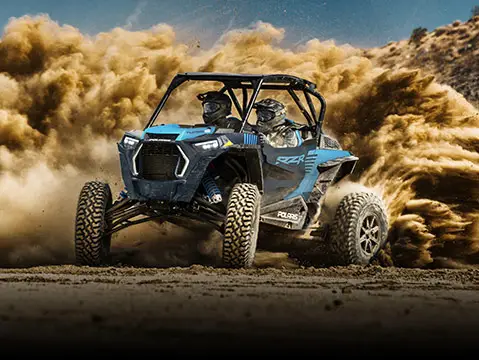 Getting some dirt on it is a favorite pastime for adventurers and adrenaline junkies whether navigating through mountain trails in Utah, dry river beds in California, or sand dunes in Nevada. Gripping it and ripping it is fun for the whole family and extends from driver to passenger, but what is the better ride for you when blazing your trails? The Polaris Ranger or the RZR?
The 2-Seater Polaris Ranger vs. RZR
Polaris Ranger EV
The 35-horsepower electric engine provides some giddy-up and go while the solid 4-Wheel Hydraulic Disc with Dual-Bore Front and Rear Calipers gives plenty of stopping power promoting excellent control.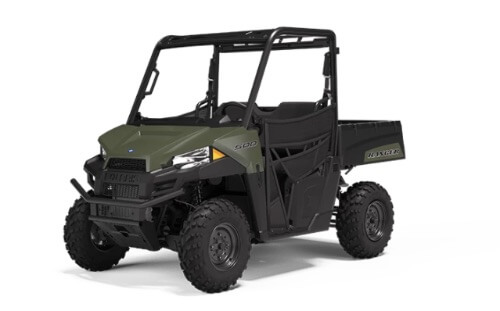 The On-Demand True AWD/2WD/VersaTrac Turf Mode allows for versatility in motion and terrain. Instrumentation readings are digital so there is no guesswork involved leaving your focus on enjoying the ride. The lock & go cargo system ensure your valuables are safe and sound.
The Polaris Ranger EV is the hunter and workman's tool to carry heavy loads and get you where you need to go on rough terrain. This Ranger is an ideal workhorse to ease your hard labor duties.
Polaris RZR Trail S 1000
The RZR boasts a 100-horsepower, fuel-injected engine that was made for trail athletes. Bucket seats with a driver's slider seat provide a locked-in comfortable ride and the locked-in extend to your cargo system with lock & go technology.
Cast-aluminum wheels and a formidable front and rear shock and rear suspension system of Dual A-Arm with Stabilizer Bar and 13.2 in Wheel Travel ensure that you are getting the smoothest ride through all kinds of terrain. The halogen lights will illuminate the path for efficient navigation.
This high-performance ATV is great for the duo that loves to ride trails and have a bit of power and versatility with a smooth, tailored ride. These riders are less concerned with getting there and more concerned with the journey.
Multi-Passenger Polaris Ranger vs. RZR
Polaris RANGER CREW XP 1000 NorthStar Edition
This luxurious ride offers 82-horsepower with a High-Performance On-Demand True AWD/2WD/VersaTrac Turf Mode and excellent control of the speed with a 4-Wheel Hydraulic Disc with Dual-Bore Front Calipers. The comfortable, spacious seating is designed to cushion a rough ride.
Navigating in the dark is no problem with Halogen Headlamps, 55W Low Beam, 60W High Beam, Dual LED Taillamps to light up the night, and extend your ride time. The 1,000-lb box capacity gives you the ability to carry all the necessary goods for your balanced ride and the lock & go system can ride as hard as you do.
The enclosed cab behind roll-windows is ideal for keeping the elements at bay and hauling items securely from place to place. The Ranger XP 1000 NorthStar Edition is a great fit for a hard days work on the farm, industrial site, or hunters.
Polaris RZR Turbo X4
The 168-horsepower engine is ready to roll on trails and is robust enough to handle off-trail terrain. This RZR is a breeze to navigate with Xtreme Performance with Quick Turn Rack and Integrated Steering Angle Sensor steering allowing you to enjoy the ride while easily maneuvering around obstacles and challenges.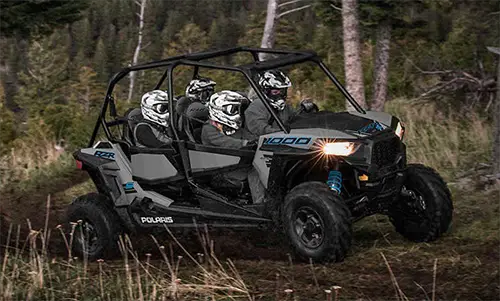 Built-in GPS ensures you will never lose your sense of direction and the spacious seating extends the fun to several passengers at once. You can show off your personal style and flair with User Selectable Blue/Red Backlighting & Brightness, Programmable Service Intervals that thump to your music, and enhances the experience of your ride.
The MB Quart Door Speakers & Rear Wired Camera ensure that people will know you are coming down a trail and you will know what is behind you promoting prime awareness increases safety when hitting those curvy, one-vehicle trails.
The Polaris RZR Turbo X4 is a perfect match for the explorer without limits who rely on power and comfort. The lock & go technology will keep your valuables safe and the sturdy build will promote the safety of your companions.
Summary of Polaris Ranger vs RZR
When reviewing the features and dynamics of Polaris Ranger vs RZR, it is clear that the Ranger rises to the top for work while the RZR rises for play. Finding the perfect fit for you depends on what you will be using the razor for – the workhorse or the playmate.
Both have outstanding features and capabilities in exploring trails and comfortable riding but if it is the speed you are looking for the horsepower is strong in the RZR and the hauling convenience is strong with the Ranger. When all is said and done, both vehicles demonstrate quality and dependability that will excel expectation.