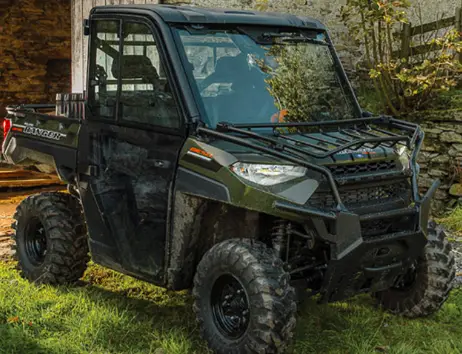 There could be a lot of reasons to consider purchasing a UTV. A person may own a lot of land with only rough roads to get around, they may be a keen hunter or they may enjoy driving off-road just for fun. In these situations, a UTV is an ideal choice. Two of the most well-known UTV models are made by Polaris – the Ranger and the General. They both have a lot of fans, so the question is Polaris Ranger vs General, which is most suitable? Let's take a look at what each range offers.
Polaris Ranger
The Ranger is considered to be the one to pick if you're looking for a UTV primarily for work. It offers a choice of seats from 2 up to 6-seat models to accommodate work crews. The power ranges from 32 to 82HP giving you the power to get wherever you need to go, over any terrain, and with as many people as you may need. True AWD, power steering, a 12″ ground clearance and 10″ of suspension travel makes traversing rough terrain a breeze.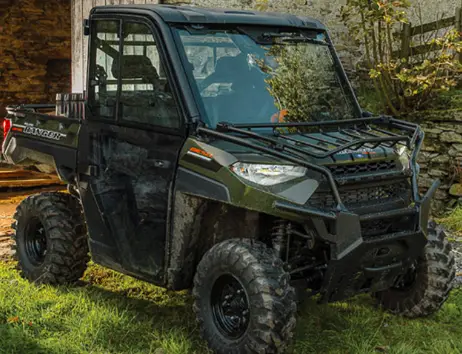 If you need to tow a trailer the Ranger will pull anything from 1500-2500lb depending on the model. There's also a cargo box, which will haul up to another 1000lb. This makes it ideal for farmers and ranchers to transport anything from animal feed, to logs, to fencing.
If you're going to be spending a lot of the day driving the Ranger promises improved plush seats, tilt steering, and a smooth ride. It's also very easy to climb into with a wide, easy-open door and a low step-up.  Once inside has plenty of space for maps, your lunch or coffee. It also has plenty of headroom with even people over 6 feet riding comfortably no matter how deep the ruts you drive through.
If you intend to go off-roading in your Polaris Ranger, then it is worth investing in an aftermarket rear windshield. The best options are polycarbonate versions such as the SuperATV rear windshield.
More info: Read our comparison of the Ranger 500 vs 570.
If you're out for a day's hunting the Ranger lineup includes the EV. It is one of the quietest UTVs available meaning you're far less likely to have scared off all the wildlife by the time you get to your destination. The large cargo bed ensures you can bring your spoils home easily.
While some do use the Ranger for recreation and it's comfort makes it a good choice is it primarily seen as a workhorse.
Polaris General
As explained above, the General is more popular with recreational UTV owners. It has 2 and 4-seat models and has a greater focus on speed and maneuverability. It has a sportier engine at 100HP and Walker Evans shocks. The General has an even more impressive ground clearance than the Ranger at 13.5″ coupled with 14″ of suspension travel. Ideal for off-roading on even the steepest, roughest trails.
The XP models come with a convex rear mirror and a vehicle-to-vehicle antenna, so if you're enjoying your day as a group you can stay in contact easily. The deluxe models are also packaged with a Sound System from Rockford Fosgate, a Poly Sport Roof, a Low-Profile Bumper and a 4,500-lb Polaris HD Winch. Everything you need for a day out adventuring.
If you want all the extras from day 1 in addition to everything the XP models offer the Factory Custom Edition also includes Pro Armor HEXLR Beadlock Wheels, an 11″ Pro Armor Light Bar, a Race-Inspired, Stitched Steering Wheel, Embroidered Badging on Custom Seats, and a Low Profile, Color-Matched Sport Bumper. If you're looking for a recreational UTV with everything you could need this is it.
The Pursuit edition is designed with hunting in mind and sports a Kolpin Gun Mount & Boot, a new 11″ Pro Armor light bar, and 30″ Pro-Armor Crawler XG Tires. Polaris say it is "is engineered to elevate the pursuit of the game, big or small."
If you do plan on using the General for farming, or ranching as well as adventuring the winch will help you clear fallen trees or make it up the steepest trails. The General also has the 600-lb cargo box and tows 1500lb, so it will hold it's own against the Ranger. The improved shocks and suspension play will also ensure a smooth ride if you're on the road all day. With a maximum of 4 seats, you won't be able to fit in a work crew but for a small team, the General will still get the job done.
Which to choose?
When trying to decide on buying the Polaris Ranger vs. General, a lot depends on what your primary use of the UTV will be. If more than 50% of its use will be for work then the Ranger will likely be the best choice. It's comfortable for long drives, has models with 2-6 seats, and has superb tow capacity.
If it's mostly for recreation then the General is more designed for you with more communication features, a superior sound system, and unparalleled cornering and suspension. With a large number of models across both ranges, there is a model for every need.