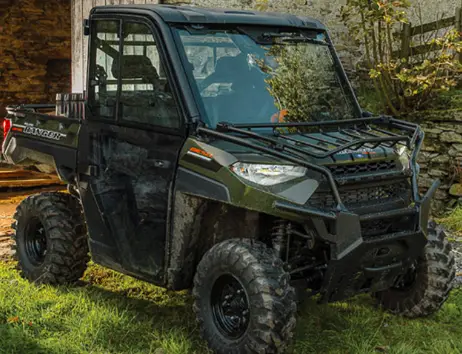 When it comes to carrying heavy-weight objects on construction or mining sites, Polaris Ranger and John Deere Gator UTVs are indispensable. They are pretty good alternatives for huge trucks which require high maintenance. And there is no doubt these two have the finest utilities out of all the UTVs on the market right now.
However, who is the superior of the two? Buckle up because I am about to compare two of the best UTVs of all time!
Polaris Ranger Review
UTVs with Elevated Unique Editions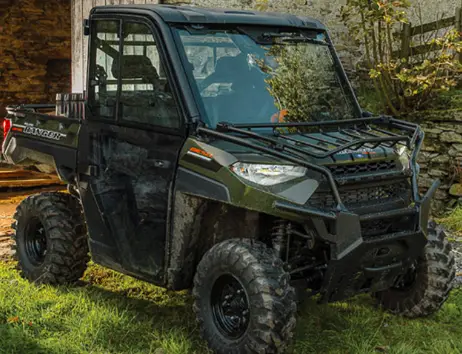 UTVs in this category are capable of taking on any obstacle. In comparison to extensive or medium-range UTVs, they can carry much more weight. This edition of UTVs includes NorthStar models. And almost every NorthStar model has an air conditioning system, heat, defrosting, and superb quality, durable interior.
Elevated Unique Edition UTVs have a carrying capacity of 1000 lbs, whereas UTVs under this category can easily tow up to 2500 lbs. Except for the Ranger XP 1000, this version of the Polaris Ranger UTVs can comfortably accommodate six passengers. 
Polaris Ranger's UTVs under this category have a 999 cc 82 hp Twin-Cylinder engine. In all UTVs, this engine is one of the fastest and most durable. Price ranges from $18000 to $23000.
UTVs under Extensive Range
Extensive UTVs come with a large space for carrying more people and loads. They come with good space, but they also let us tow more heavyweights as compared to micro-medium UTVs. In other words, they make it easier to execute more difficult tasks. 
The models under this size don't come with air conditioning or heating features whereas, Gator's models do. But don't sigh, as I am going to tell you something that would make you want the Extensive Polaris Rangers. 
Polaris Rangers like Ranger XP 1000 Premium, including normal and crew models, come with a 999 cc Twin-Cylinder engine having 82 hp. In other Polaris Ranger models, the power ranges from 40 hp to 61 hp, greater than Gator's UTVs.
But the option for diesel engines is not available in Polaris Ranger. Whereas, Gator's UTVs do have diesel engines. 
Polaris Ranger's UTVs require less maintenance than Gator's diesel engine UTVs; this really helps in overcoming overall maintenance costs.
Ranger 1000 and XP 1000 Premium has quite a good space and can allow the user to tow 2500 lbs, but Ranger 570 is that much competition and only allows 1500 lbs. Ranger 570 also comes with lesser space. Price ranges from $10000 to $18000.
UTVs in the Micro and Medium Range 
The micro and medium Range Polaris Ranger UTVs are very speedy, and their engines are quite powerful than John Deere Gator's medium size UTVs. 
In this range, the 570 Premium version of Polaris Ranger has the most powerful engine compared to 500, Ranger EV, and other Gator UTVs, as 570 Premium comes with 44 hp 567 ccs single-cylinder engine. Interestingly, the Ranger EV comes with an electrical engine that is not the case in Gator's lineup, in similar medium-size UTVs.
The price range for mid-sized UTVs in the case of 500 Polaris Ranger surpasses $9000, whereas for 570 Premium, prices start with $10000, and for Ranger EV, it goes above $12000. But the difference in prices has not affected carrying capacity; all three cars can carry 500 pounds and pull up to 1500 pounds.
John Deere Gator Review
UTVs with Elevated Unique Editions 
Just like Polaris Ranger, this edition of Gator's UTVs also contains some heavy lifting models from John Deere Gator's collection capable of bearing tough challenges.
In this edition, the manufacturers have focused on increasing the speed for fast performance, unlike extensive and medium-size UTVs. The reason behind fast speed is that Gator's UTVs are pretty lightweight in this category and come with a 62hp 839cc V-Twin motor. 
Because of its modest weight, manufacturers have limited the carrying capacity of UTVs to 500 pounds, compared to other categories. The Gator's UTVs in this category, on the other hand, can haul up to 1500 pounds. The price ranges from $11000 to $13000.
UTVs under Extensive Range
Gator's extensive UTVs don't have much power as compared to Polaris Ranger's extensive UTVs. The only models in this category that are slightly competitive in engine power to Polaris are XUV825E and XUV835E. These two have 52 and 54 horsepower, which is lower than the Ranger's UTVs in the same category.
The major difference between Polaris Ranger and John Deere Gator's UTVs in this category is that Gator's XUV835M HVAC and XUV865M HVAC UTVs have air conditioning and heating features. As previously indicated, these features are not present in Ranger UTVs, but Rangers only provide this feature in their NorthStar models. Price ranges from $13000 to $24000, including high maintenance cost diesel engine UTVs.
UTVs in the Micro and Medium Range
John Deere Gator medium size UTVs do not have powerful engines as Polaris ranger UTVs have, but they are still very reliable when performing the task. They are more task-focused than other UTVs. 
Gator's UTVs are also incredibly sluggish and force you to drive through circumstances that will cause you to become trapped in some way. The price range for XUV560E is almost $8000. 
However, the price range for XUV590E and XUV590M starts from anywhere between $11000 to $13000. And just like Polaris Ranger, all three of them can also carry and tow up to 500 pounds and 1500 pounds of weight.