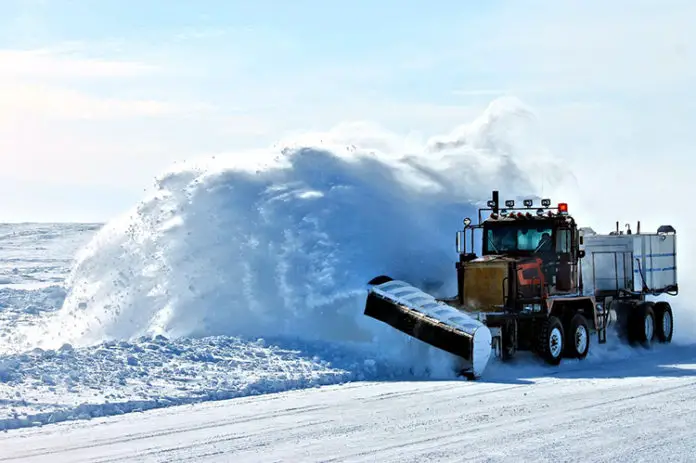 One of the major advantages of having a UTV is that they are extremely flexible, reliable and always dependable. Just imagine speeding through muddy trails at breakneck speed. It would be a highly exciting experience right. But UTVs are highly versatile machines that can be also used for plowing snow in the winter.
If you are looking for the best machine to clear the snow in your walkways and pathways, then UTVs are the best machines to look far. In this article, we've reviewed some of the best side-by-side UTVs for plowing snow.
Honda Pioneer 500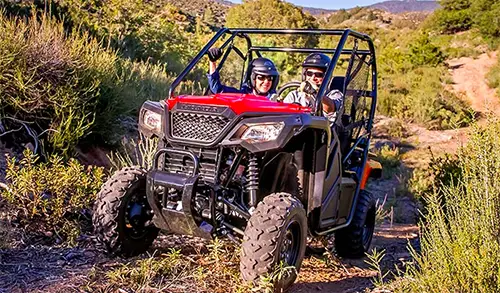 When it comes to plowing snow in the winter, then nothing can beat the Honda Pioneer 500. It is the ideal machine for plowing snow in narrow sections. The UTV is so compact that you can easily fit inside the back of your truck.
This entry level UTV is perfect for plowing snow in areas where hand shoveling is not possible and you cannot use large plows. The Pioneer 500 can easily attach to itself to 54-inches snow-plow to remove snow quickly from walkways and pathways.
The UTV is perfect for both beginners as well as professionals. Equipped with a 4-stroke engine, this compact side by side machine also turns out to be the perfect mobility vehicle in ranches and farms.
Kubota RTV-X1120D
Next in our list of the best side-by-side UTV for plowing snow is the Kubota RTV-X1120D. This ATV is packed with everything you will be looking for in a ATV to clear every bit of snow from your walkways and pathways.
The ATV comes in a very attractive price making it a tough competitor in the market. Equipped with a powerful engine, it also features a heated cab that will help you dig out the snow on freezing cold mornings.
John Deere Gator 825i
If you want a UTV that really hold its own when it comes to dealing with loads of snow, then have a look at the John Deere Gator 825i. The Gator is popular among farmers and people buying utility UTVs due to its ability to stand up to countless hours of use. The Gator is sportier and, in our opinion, much more interesting than the Kubota, making it also ideal for recreational rides around the weekend.
Reliability is an important aspect of every UTV and the Gator doesn't disappoint. It is perhaps one of the most reliable UTVs available today, routinely having the ability to handle very difficult conditions and mistreatment.
The Gator happens to be a safe buy if you're looking for a UTV to handle snow plowing. In addition, getting spare components is quite easy because the Gator is a very popular UTV and you can find a lot of service centers around.
Polaris Ranger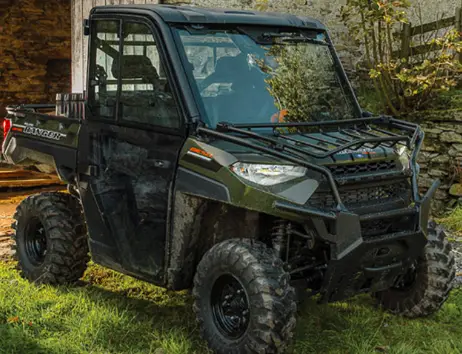 If you need a sporty model that you can have fun with on the weekends while still being able to clear all the snow in your road, look at the Polaris Ranger. This is one of the best Do-It-All UTVs; a sports utility model with a great starting price point that will handle and ride surprisingly well even on snow tires. If you do not need to push aside massive amounts of snow and only need the side-by-side for occasional plowing, then this could be a great choice!
The first advantage of this UTV is ride comfort. Whether you know this or not, many have said that riding Polaris UTVs gives you an experience like riding on a premium sedan vehicle (apparently).
People with bad backs are going to love the Ranger because of its well-damped suspension setup, which swallows bumps with ease, plus its frame stays stiff and steady while snow plowing. In short, this is one of the easiest UTVs to plow with.
More info: See how the Polaris Ranger 500 and Ranger 570 models compare.
Can-Am Defender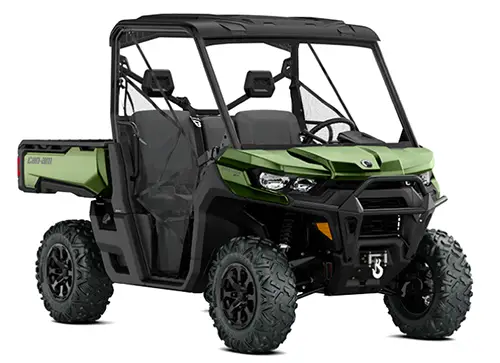 Perhaps one of the most capable models here, the Defender distinguishes itself when you are looking for one of the most comfortable models designed for plowing snowfall. Can-Am has launched some very nice products lately, and the Defender is not any exception. The mix of a very roomy cabin, typical 4WD drive, and an extremely sporty driving sense make this a fantastic choice for people seeking to plow light to moderate levels of snow.
One of the key advantages concerning the Defender is the fact that they have among the roomiest cabins within the segment today. Also, older people will love the defender for its sufficient leg space and cabin room in general. Not just that, the Defender is among the few UTVs which come standard with 3 contoured car seats. Not just a bench, but a genuine seat which will fit larger-sized people.
The Can-Am 4WD transmission is also excellent. It comes having the ability to lock both front and rear end diffs meaning it's unlikely that you will get stuck in the snow, particularly if you use snowfall chains.
Kawasaki Mule
The charming Kawasaki Mule is among the stalwarts in the segments, providing great levels of usability and power including plowing heavy snowfall off your driveway. The Kawasaki Mule does this in an exceedingly tiny package: this UTV is merely 106 inches long, ideal for people who require a compact machine with a good turning radius.
The Kawasaki Mule primary plus point is that it's very maneuverable so its great for people that have an smaller driveway or path or just favor a more lightweight UTV for storage space purposes.
---
More information
For further information on UTVs, check out our buying guides for the best UTV for desert racing and the best UTV for families.