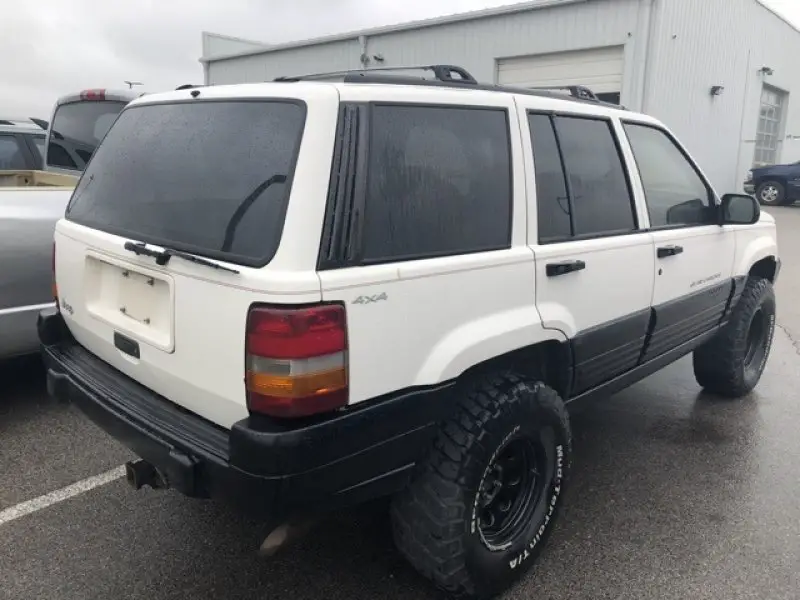 When I started this blog it was all about Jeep Wranglers but if I'm honest, they are not the only off-roading Jeep vehicles out there. Recently, I've been looking more in-depth at Jeep Grand Cherokees and one of my questions I had at first was about what mileage you can get out of these models.
So how many miles can a Jeep Grand Cherokee last? Looking at an average across the ten of the highest milers recently on sale on Auto Trader, the number of miles that a Jeep Grand Cherokee can last came out at 291,765 miles.
Although a Grand Cherokee can run for high miles there are some differences between each generation, which I'll cover below. Also in this article, I take a look at some of the common problems you might find with high mileage Grand Cherokees.
Analysis of Jeep Grand Cherokee mileages on Auto Trader
One of the ways I could have researched Grand Cherokee mileages would have been to speak to dealers ore poll some owners. Unfortunately, I don't have access to that type of data so I went on AutoTrader.com and simply searched for all Grand Cherokees on sale across the US, then sorted by highest mileage. I then selected the top 10 vehicles in terms of mileage to get an idea of what mileage to expect.
I have summarized the data in the table below.
| Year | Drivetrain | Cylinders | Mileage | Price |
| --- | --- | --- | --- | --- |
| 1998 | 4WD | 6 | 321,002 | $3,999 |
| 1997 | 4WD | 6 | 303,356 | $9,999 |
| 2003 | 4WD | 6 | 293,647 | $900 |
| 2002 | 4WD | 6 | 293,557 | $2,499 |
| 1999 | 4WD | 8 | 291,362 | $3,761 |
| 2001 | 4WD | 8 | 287,289 | $2,195 |
| 2008 | 4WD | 6 | 285,409 | $2,995 |
| 1996 | 4WD | 6 | 285,150 | $3,995 |
| 2004 | 4WD | 6 | 282,659 | $3,495 |
| 2003 | 4WD | 6 | 274,217 | $3,000 |
Some quick background on the various Jeep Grand Cherokee model generations.
The first generation (ZJ) Grand Cherokee ran from 1992 until 1998. Petrol engines included the 4.0l straight 6, 5.2l V8 and 5.9l V8 that was found in the Limited. There was also a 2.5l diesel model but this was not available in North America. Three spec variants were available, including the top of the range Jeep Grand Cherokee Limited model.
The second generation (WJ) model was launched in 1998 and ran until 2004. Petrol engines included the 4.0l straight 6 and 4.7l V8 (available in 2 power outputs). Again, diesels were not available in North America but included the 2.7l (Mercedes Benz) and 3.1l (WM Motori) engines.
Third generation models (WK) were in production from 2004 until 2010. Petrol engines included a single V6 (the 3.7l) and three V8's including the 4.7l and 5.7l/6.1l Hemis. Diesel power this time came in the form of the 3.0l V6 from Mercedes-Benz.
The Jeep Grand Cherokee is currently on its fourth generation (WK2) which was launched in 2010. Petrol engine choices are the Pentastar 3.6l V6, Hemi V8 5.7l, the 6.4l Hemi V8 found in the SRT8 and SRT and the 6.2l supercharged V8 Hemi in the Trackhawk. The Fourth generation diesel engine is the 3.6L CRD V6. If you are looking for a complete comparison between the Grand Cherokee V6 and V8 engines, then check out other article.
The data I collected showed that although the average was 292k miles, the highest mileage vehicle that was on sale had over 300 000 miles at 321k miles. Looking at the table above its clear to see that first generation Grand Cherokees fair well when it comes to high mileage. There is even a very early model in there with 285k miles. Second gen used Grand Cherokee models have been around for over a decade and also feature prominently in my top ten mileage list. Even though the third generation Grand Cherokee was launched over 15 years ago, it's surprising that only one car is in the top 10 (a 2008 model). Not too surprising though is the fact that there are no fourth generation models in the table.
Price-wise, average selling price is $3,684 with a range of between $900 (a 2003 model) and $9,999 for a 1997 model (which seems high to me).
Looking at engines, both the petrol V6 and V8s are in the table (less V8s) and based on the mileages shown, there is nothing to say that the V8 is capable of any fewer miles than the V6 engine.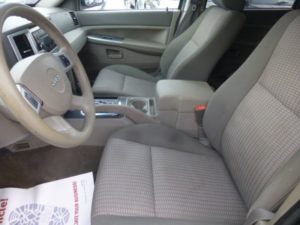 Do Jeep Grand Cherokees have a lot of problems?
With high mileage cars, you are going to encounter some issues, even if it's down to general wear and tear rather than the manufacturers build quality. I did some research into problems that could occur with a WJ model (1998-2004 production) and here is what you can expect (probably worst case though):
Heater blenders stop working.
Steering column spring wearing which can activate the airbag warning light (could be a problem when it comes to vehicle inspection time).
Electric window regulators wear or fail so the windows will slowly slide down.
The sunroof (where equipped) may stop opening/closing but will still tilt.
Faulty door wiring harness leading to problems with electric window and mirror power.
Gas struts in the tailgate can no longer keep the tailgate open.
Heated seats (where fitted) can fail.
Ignition barrel can become worn on vehicles with higher mileages. This will require a dealer (or good indy) re-program.
Jeep Grand Cherokee Service Intervals
Service schedules can vary between different models but to give a general idea, I took a look at the maintenance requirement for a 2005 Grand Cherokee.
Engine oil needs changing every 3 months or 3,000 miles.
Flush and replace engine coolant every 102,000 miles or 5 years.
Major services are at the following mileages: 12000, 38000, 48000 (includes transfer case drainage), 58000, 96000, 115000, 144000, 154000, 163000, 173000 and 192000.
As with all second-hand car purchases make sure to check for any service history. A high mileage Grand Cherokee is likely to be a few years old now, and while it should have been dealer serviced in the first few years of its life, in later years it was properly serviced at an independent. If the owner has claimed to service the car themselves, which is common in cars with high mileage, then be sure to ask for any receipts of parts and consumables used.
Where There Any Major Recalls on the Jeep Grand Cherokee
The Grand Cherokee has had five main recalls since the start of production in 1992.
Fuel tanks – fuel tanks could become damaged (leading to leaks) in a rear-end collision. The recall involved fitting trailer hitch bars and including the Grand Cherokee manufactured during 1993–1998. The 1999-2004 Grand Cherokee WJ models were excluded from this recall.
Transfer cases – transfer cases would unintendedly move into neutral. This affected the WK series (2004-2010 models). The recall involved a revision to the Final Drive Control Module (FDCM) software, although in some cases this did not rectify the problems, so it's worth checking if the previous owners had any additional work carried out relating to this issue.
Parking lever not engaging correctly – the vehicle would move forward if left unattended. On later 2016 Grand Cherokee models, the electronic gear shift was replaced with a more conventional type.
Alternator failure – affected 2012-2014 fourth generation models. Could cause a possible fire if the alternator short circuits when the vehicle is stalled.
Brake shields – these were incorrectly installed on 2011-2014 (fourth generation) models.
Is the Jeep Grand Cherokee Reliable?
Based on the mileage data I collected and the review of common faults, then the Grand Cherokee appears to be a reliable car. I have less data on the third or fourth generation models, though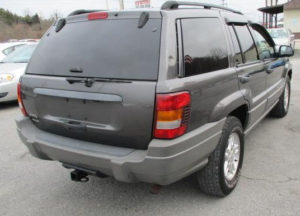 What Year Is the Best Jeep Grand Cherokee?
If it was my choice I would go for a second generation WJ model as they seem reliable enough and you should be able to pick a high miler up for around $3,000. During my research, I liked the look of a 2002 Jeep Grand Cherokee Laredo with the 6 cylinder engine for sale at a $2,499. The WJ models also fared slightly better when it came to major recalls and although it required the FDCM module upgrade, it avoided the fuel tank recall.