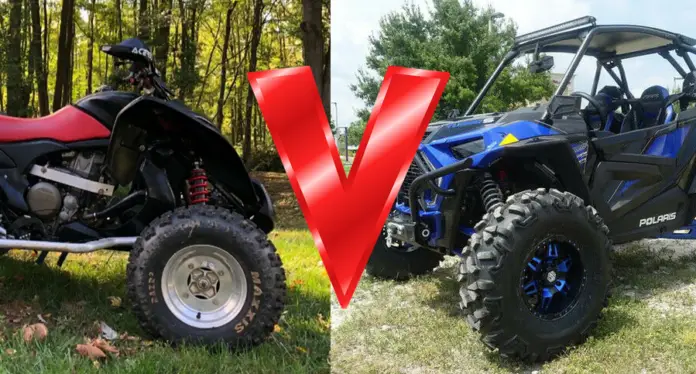 If you are looking for the best ATV tackle the fields and trails, then it finally comes down to choosing between a Honda or a Polaris. Even though Kawasaki and Suzuki do offer some great models, for a comparison sake, we are comparing the pros and cons of both Honda and Polaris. Choosing between the two can be a bit tricky as both are reputable brands and offer some great models for off-road as well as lifestyle experiences. So let's look at how these two ATVs make up under various factors.
Power
When it comes to power, both engines are different even though they are liquid-cooled and fuel injected. When it comes to Honda engines, they come equipped with a cap near the head with push rods to control the valves. But some Polaris models come with a dual-overhead cam design.  Both Honda and Polaris don't come with front differential locks, but Polaris is much better in this aspect as the on-demand AWD system can automatically lock the front diffs.
Handling
When it comes to the handling department, Polaris edges over its counterpart with good suspension, larger diameter tires and 14-inch wheels. You can also find electronically powered steering on Polaris ATVs. While Polaris offers a dual hydraulic disc brakes, Honda comes equipped with a single rear hydraulic disc. 
Color, Style & Accessories
Both Honda and Polaris offer ATV in different colors. For example, the Honda FourTrax Rancher is available in both red and olive colors while the Polaris Sportsman come in Sage Green and Velocity Blue colors. When it comes to the style aspect, both Honda and Polaris offer attractive and good-looking ATVs that will make heads turn.
When compared to Polaris, Honda ATVs come with a lot more accessories including winch mounts, power blades, windscreens, pocket nets and suspension guards.
Riding Experience
It is the riding experience that makes an ATV better than the other. Here, both the Honda and Polaris offer quite an amazing riding experience with their ATVs. When compared to Polaris ATVs, the seat height is a bit low along with the handlebar, so a rider standing can seem hard to reach the handlebar. The controls are not too advanced in Honda ATVs. Polaris edges here with a much better handlebar control. The hand controls on Polaris also offer only a minimalistic setup allowing you to concentrate more on the road ahead. 
Storage & Cargo
Bothe Honda and Polaris have cargo racks, but Polaris offers a plastic rack and still can tow heavier cargo than Honda ATVs. When it comes to storage, you can find a huge storage box under both the front and the rear rack on Polaris ATVs. 
Frequently Asked Questions
Q: Which offers the best brakes? Honda or Polaris?
A: The braking system on Polaris works great than Honda, but still it could be much effective if they come with separate front and rear brakes.
Q: Which ATV is the best for hunting?
A: Polaris is slightly better as it comes with a lot of hunting accessories including a gun scabbard.