All-Terrain Vehicles or ATV quad bikes have become quite popular these days. They are being used in different parts of the world for various purposes. Riding an ATV is no less than an adventure. People love riding these bikes as a part of their leisure activity. Not just adults but ATV bike rides are also enjoyed by kids.
Various brands are manufacturing ATV bikes including some Chinese brands. However, Chinese ATV quad bikes are often considered to be inferior in quality. Now the question is if that is true or just an assumption?
If you are looking for a detailed write-up on "Chinese ATV/Quad Reviews: Are They Any Good" then you can refer to this article for information. We have tried to cover all that you need to know about Chinese ATV quad bikes.
Pros of buying a Chinese ATV/Quad 
Many people have this wrong conception about buying Chinese ATV bikes. They think that Chinese ATVs are of poor quality and flawed as well. This mainly stems from the idea that Chinese brands make use of poor quality materials to manufacture their goods. However, this is often not the case.
There are many benefits of buying a Chinese ATV quad bike. Some of the main benefits include:
They are affordable
In comparison to other ATV brands, Chinese ATV bikes are cheaper. This is one of the main reasons why they have become so popular these days. A Chinese ATV bike can be thousands of dollars cheaper than the brands from other countries.
Tougher
When Chinese brands started manufacturing ATV bikes, there were initially some quality issues. But with time, that has been taken care of. Today, you can get Chinese ATV bikes that are tougher than other popular brands. 
No wonder more people are buying China made ATV bikes. However, there are still some poor grade models that you need to avoid.
Problems with buying a Chinese ATV/Quad
The quality of Chinese ATV bikes may have improved but there are still some problems that need to be addressed. For anyone planning to buy a Chinese ATV quad bike should take a look at the following pointers.
Parts are not easily available
Spare parts for Chinese ATV bikes are not easily available in the market. This is a problem for those who have bought a Chinese ATV to ride. Whether it be the clutch or brakes, you have to look at various places before you get the parts. In case, you don't find the parts, you will have to ship them from China. 
Hard to get serviced
Another problem with Chinese ATV bikes is that they are hard to get serviced. You will not find many mechanics who can repair Chinese ATV bikes. In that case, you will have to send your ATV to the service center from where you bought it. If you have imported it from China then you need to send it there to get it repaired. But if you are lucky enough to locate a mechanic in your country then all is good.
Best Chinese ATV Brands 
There are several different Chinese ATV brands in the market. But we have brought to you three of the best brands. Here are the brand details you need to know.
1. Coolster
Coolster is one of the most popular Chinese ATV brands you will find. They offer high-quality ATV bikes. The brand has many models available in the market. Some of the popular models from Coolster are the ATV- 3175S and ATV-3150CXC.
ATV-3175S is a 175cc model from Coolster. This is the most expensive and the only ATV bike that comes with 175 ccs from Coolster. It comes with the best shock absorption and a rear utility rack. This is designed to impress riders of all ages. The stylish design of the bike is the first thing you will notice.
Coming to ATV-3150CXC, this is the first-ever 150cc ATV bike made by Coolster. It has got all the features which make it one of the best models in the market. It is both powerful and stylish. It is designed to give you great performance. It is equipped with a rear utility rack, rear wheels, and better shock absorption.
2. Tao Tao
The next popular brand for Chinese ATV bikes is Tao Tao. They have made great improvements in their ATV bikes. It is because of this that they have risen to fame. They have many unique models in their collection but one model that is better than the rest is the Tao Tao ATA-125D 110 cc Youth Size ATV.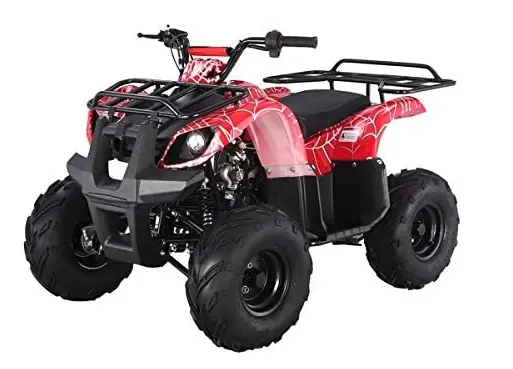 With big rugged wheels, this is one of the best models manufactured by Tao. It comes with a powerful 4 stroke engine which allows it to deliver excellent performance. Both front and rear tires are strong enough to handle all types of terrain nicely.
3. Apollo
The third most popular brand is Apollo. They are known to make entry-level mini ATV bikes. These bikes are mainly meant for kids. They make durable and powerful ATV bikes to deliver great performance. One of the notable models from this brand is the Apollo 125 RFZ Sportrax.
This is the perfect combination of style and performance. This is a good looking 125cc bike with an automatic gearbox and electric start. This quad also had a speed limiter making it the perfect choice for a child (12+) looking to hit the trails.
4. X-Pro
The final Chinese ATV brand in the round is X-Pro. This manufacturer has a large range of ATV and motorbikes and one of the more popular ATV models is the X-Pro 200 ATV. This models comes with an air cooled 4 stroke 169cc engine, which is the perfect size for someone looking to get into ATVs.
Automatic transmission is featured in the 200 ATV along with a reverse gear and electric start. It also looks pretty good as well with large 22″/23″ tires and rear carrying rack. Check out the reviews though as owners seem to have a love hate relationship with this ATV!