If you are considering buying a used Jeep wrangler, then you'll want to know what are the worst years in terms of owner issues. So, what are the Jeep Wrangler years to avoid? 2007 and 2008 are by far the worst years in terms of the number of complaints and this coincides with the launch of the Jeep JK generation. The period between 2011 and 2014 also saw a higher than usual number of owner issues.
Jeep Wranglers are one of my favorite off road vehicles, especially the JK. I thought it was important for other potential owners to be aware of some of the production years to avoid for the JK, so I analysed carcompliants.com to see what the worst years were and what were the main issues.
It was obvious straightaway that the JK series has the most complaints so this generation and the 2007 to 2018 production years will be the focus of this article. Below you will find a summary of my research, starting with the worst production years for Wrangler JK complaints.
Jeep Wrangler JK – the worst years
2008
This production year had the highest number of complaints overall, and this was two years into the JK launch, so they could hardly be described as teething issues.
The main complaint for the 2008 production year was the infamous "death wobble". This is when you get a loose feeling in the steering accompanied by some aggressive oscillation through the steering wheel. In severe cases, you will have to come to a complete stop as the Jeep becomes undrivable.
The death wobble is usually caused by loose suspension components, and the main culprit is the track bar bolt on the axle side (although it can also be on the frame side, but this is less common). Generally this is because the bolt does not fit well. It could simply be a case of tightening it up, but the wear may have made a hole in the bracket so the bolt is free to move around.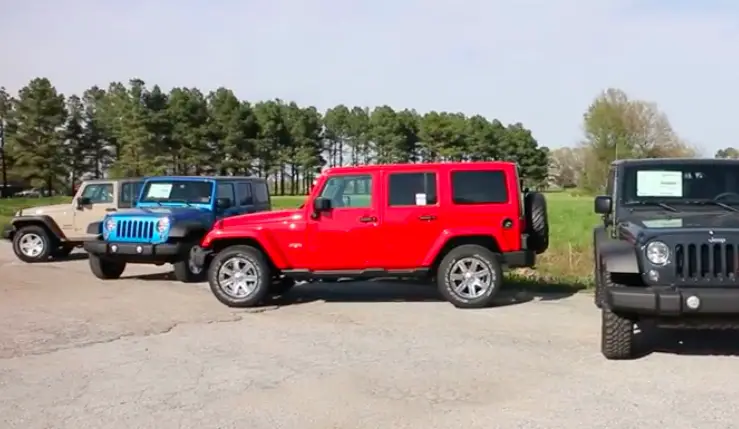 Similarly, the track bar bushing could also be worn out. If you are going to replace your track bar then it might be worth investing in an upgrade rather than fitting a standard jeep part. Often these aftermarket parts are usually stronger, many are adjustable and they feature upgraded rubber bushes. Typically this can be bought for a couple of hundred dollars, and Morris 4×4 list a good one for the JK from TeraFlex.
The second biggest issue with 2008 production was the failure of the TIPM or Totally Integrated Power Module. This component sounded like a good idea on paper but had many issues in practice. The purpose of the TIPM is to control how electrical power is distributed throughout the Jeep. Not only does this include the obvious electrical components like power windows and headlights, it also sends power to the other electrical modules including those that are used for braking (ABS) and engine management. It's secondary function is a communication hub between all the different modules. Housed in the TIPM plastic box are fuses, relays and many circuit boards. 
Some issues can be fixed by simply switching out a fuse or relay, but in 2008 (and some other years), the whole unit required replacing. It is such a prevalent issue that there are many services now offering TIPM unit replacements or refurbishments. Looking at the Mak's website, typical prices for a TIPM refurbishment for a 2012 model (this year had a lot of TIPM issues) is between $375 to $435 for a rebuilt unit versus $595 for an OEM version. So while still expensive, the refurb option is a saving of up to 37%  over new.
There was also another problem with the 2008 year, and that was owners complaining that their vehicle would not start. The cause is not obvious, but the TIPM unit could well be at fault.
For this production year, the Jeep JK had 10 recalls.
2007
This was the Jeep JK's first major year of production and the second highest when it comes to complaints. The main issue for this production year was the death wobble, and there were more complaints for this issue with 2007 production than in 2008.
Apart from this, there were no other standout issues. 10 recalls were issued for the 2007 production year.
2011 to 2014
For the next couple of years things quietened down on the Jeep JK front with nowhere near the number of complaints seen for 2007 and 2008 production. This didn't stay that way for too long and 2011 marked the start of a 4 year long high complaint period. I have summarised these below:
2011 – This year had the lowest number of issues in this four year period. The death wobble was still a common complaint for this year but more costly issues were complaints of blown engines. Looking at the complaints this seems to relate to the 3.8L V6 at an average mileage of around 63k. You will be looking at $5k to get an engine replacement. Jeep issued 11 recalls for this production year.

2012 – this was the worst year in this four year period. This production year saw the return of the TIPM failure as the main complaint (see above). Again, as in 2011, more serious engine complaints were recorded, with cylinder head issues requiring replacements at a cost of around $4k. This affected the 3.6L V6 Pentastar engine more. This production year had 10 recalls

2013 – electrical issues bugged this production year. TIPM failure was a common issue along with engine stalling when driving (probably caused by a faulty TIPM). A quiet year on the recall front, with "only" 7 issued.

2014- this was the second highest complaint year in this period. No TIPM or death wobble as major issues reported for this year. Main problem was an oil housing leak, although this did cost owners an average of around $700 to replace. One of the best years for Jeep JK recalls with only 4 issued.
What are the best Jeep Wrangler years
Looking at the Wrangler JK data, 2009 and 2010 are okay years and certainly the last 3 years of production (2015 to 2018) seem to have fared far better on the owner complaint front.
I could find very few complaints for the TJ generation that ran between 1996 and 2006. Likewise the new Jeep JL (launched in 2017) has very few complaints, but that should be expected from a newer, modern vehicle, maybe this might become one of best years for Jeep Wrangler production.
Summary
It was clear from the data that 2007 and 2008 are the Jeep Wrangler years to avoid as they had the most number of complaints. The years between 2011 and 2014 is also a period to watch out for.
Overall, the main issues are the TIPM failure and death wobble. The death wobble could be an easy fix but a TIPM failure is likely to set you back $300 or more for a refurbished unit.
More concerning though are the engine issues reported in 2011 and 2012 that required an engine rebuild or complete new motor. This can never be 100% avoided but it pays to ensure the Jeep Wrangler JK you are looking at has some solid service history.
On the positive side, 2015 to 2018 later production models have a much lower number of complaints, although the initial outlay on these will be higher.
If you want to find out more about reliability, read our article on what mileage you can expect from a Jeep Wrangler.