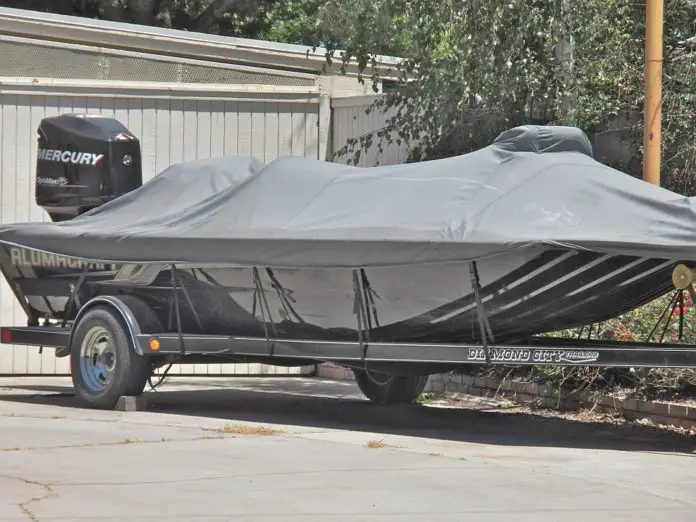 Because I live near the great outdoors in the pacific northwest, I often get asked if my Jeep Wrangler can tow a boat by those looking to purchase a Wrangler. This question is more and more common, so I thought I'd write about my experience. I've found that the answer to the question if I can tow a boat with a Jeep Wrangler, is yes. But there are reasonable limits and the Jeep's factory recommended payload of 2000-3500 pounds as well as specific components to assure safe towing.
Can a Jeep Wrangler tow a boat? Yes, as long as the total weight of the boat is under the factory's safety recommendation. While the Jeep Wrangler's use on steep or rough terrain is a better use of its capabilities, I have towed a fishing boat and jet skis without issues.
When it comes to towing with the Wrangler; however, there are a few things I learned.
Ideal Weight
Tow Package Requirements
Safety Tips
I'll dig into each one of these below.
Ideal Weight
For my 2015 Jeep Wrangler Unlimited (aka: JKU) there are specific weight settings. The trailer's dry weight must be less than 2900 pounds and the tongue weight no more than 377 pounds. But what does that really mean when it comes to a boat? The dry weight is the weight of the trailer without anything (absolutely nothing) added to it from the factory. For example, the Chinook Thunder Jet is 22" and has a dry weight of only 2150 pounds. This leaves enough room for fishing gear and fuel.
However, I'm not cruising uphill anywhere at 65mph. A small aluminum fishing boat, on the other hand, pulls just fine and cruises uphill. The ideal boat you want to tow is up to you. My 2015 Jeep Wrangler is up for the job as long as I stay underweight and am not in a hurry to pass everyone going up the hill. However, I did install a few tow package items to help maximize performance and safety.
Tow Package Requirements
Here are the tow package parts I installed on my JKU. It took me about 45 minutes and the parts fit perfect. The most important thing during the installation is to make sure you secure all of the bolts that come with the trailer hitch receiver. Also, if your Wrangler rear bumper is no longer stock, you might need to look at other options for your hitch as well as towing capacity.
Reese Towpower 51077 Class III Custom-Fit Hitch with 2" Square Receiver opening
Up to 350 pounds tongue weight and gross towing weight of 3500 pounds - you should always consult the vehicles owners manual for maximum towing capacity
All-welded construction for maximum strength and safety
Fatigue and stress testing ensure a strong design that will withstand road abuse
Meets and exceeds V-5 CSA and SAE J684 standards and are inspected for quality and workmanship
Many no drill applications and MetalShield protective coating for increased corrosion resistance and OEM quality protection
YITAMOTOR Trailer Hitch Ball Mount with 2-Inch Trailer Ball & Hitch Pin Clip Fits 2-Inch Receiver (6,000 lb. GTW, 4 Inch Drop)
PRODUCT DIMENSIONS: Fits class III 2''x2'' receiver hitch tube; Features 10-1/4" length shank, 1'' hole diameter, and 2'' removable trailer ball
HEAVY DUTY TRAILER HITCH: Offers a gross trailer weight capacity of up to 6,000 lbs.; Perfect for towing trailer, campers, hauling motorcycles and ATVs
BALL & PIN KIT INCLUDED: The loaded ball mount comes with a pin and clip for mounting to the appropriate sized receiver tube
DURABLE FINISH: Class III trailer ball mount carries a gloss black powder coat finish; The trailer ball features polished chrome plating for rust, chipping, and UV protection
WORRY-FREE SERVICE: This 4-inch drop hitch is the best gift for your favorite cars; We provide a 1-year warranty and full refund if you're unsatisfied
Sale
Rugged Ridge | Trailer Wiring Harness | 17275.01 | Fits 2007-2018 Jeep Wrangler JK
HEAVY DUTY HITCH HARNESS: A complete plug and play wiring solution for your towing needs, the connectors and plug (pigtails) are part of the wiring harness, creating a one piece design for easy installation.
WIRING HITCH HARNESS: The harness is made to the original specifications and keeps you from having to make frustration and costly modifications to your vehicles wiring.
OFFROAD ACCESSORIES: Get serious about off-roading with a variety of tow hooks, hitches & kits that give yourself a way out in sticky situations. We offer steel winches, synthetic rope or steel cable & more recovery accessories.
RUGGED RIDGE JEEP PARTS: Count on Rugged Ridge to provide you with proven Jeep parts & accessories like axles, lift kits, seat covers, wheels, brakes, floor liners & more for varying Jeep model types.
Amazon prices last updated on 2023-11-28 / Affiliate links / Images from Amazon Product Advertising API
Safety Tips
Some of these tips might seem so obvious; however, they still get missed and disaster can happen. I've built my own personal towing checklist that I follow every time I tow anything with my Jeep Wrangler. Here is my process. Yours could be slightly different.
Check hitch pin and clip for secure link
Connect and check trailer lights
Connect and check trailer safety chains
Connect and validate coupler is closed and locked in place
Check trailer tires for abnormalities
Check trailer spare
Check boat straps to make sure they are tight and secure
Check and make sure anything in the boat is secure (i.e. lifejackets)
In addition, to this checklist be safe by paying attention to your surroundings. Take your time to navigate tight spots and corners and use your turn signals. My boat doesn't obstruct my mirrors. If yours does get mirror extenders.
Other Recommendations
Towing a boat can be done but must be done respecting the limits of your Jeep Wrangler and your skill level. Stay within the limits, don't overload your towing weight, know and watch the tongue weight, pack and secure everything in your boat, check your tires all around on your trailer and wrangler, check your lights, don't forget to check your brakes, adjust mirrors if needed, don't rush travel and most importantly have fun.
A Tip to Hook Up Your Boat Trailer with Ease
In the Jeep Wrangler one of the hard parts is that I can't look out the back and see my hitch as I am trying to hook up the boat. So, I invested in a magnetic telescoping set of alignment balls (see below) to help.
Sale
Amazon prices last updated on 2023-11-28 / Affiliate links / Images from Amazon Product Advertising API
This was probably the best thing I ever did so I can save time and connect to my boat with ease. They connect on your hitch receiver and the top of the trailer so as I back up, I can align the trailer perfectly.
Concluding Remarks
Can a Jeep Wrangler tow a boat? The answer is yes, but the specifics depend on the factors listed above. Knowing what your Jeep Wrangler is capable of is exciting and when you push it to the max or over the limits, problems are bound to happen. I'm pleased with the ability I have to get my boat in the water and to get fishing.
Related Questions
Can a Jeep Wrangler tow a camper? Of course, however, the same limitations as towing a boat still apply. You might not have to check straps on a camper, but you still should follow a safety checklist.
How does a Jeep Wrangler handle off-road while towing? I'd say it doesn't. Although there are trailers made for getting off-road in a Wrangler. I've never seen one for a boat. On a county gravel road, you'll be fine; however, anything steep or really rough, I'd save that trail for a Jeep only day.
Towing long-haul with a Jeep Wrangler, is it a good idea? Towing long-haul isn't probably the best use for a Jeep Wrangler. If you are towing a boat long-haul you must be moving. So, pull the boat with the U-Haul or something. I'd say that towing something over 500 miles isn't a good idea. But it's your Jeep so that I'll leave up to your best judgement.