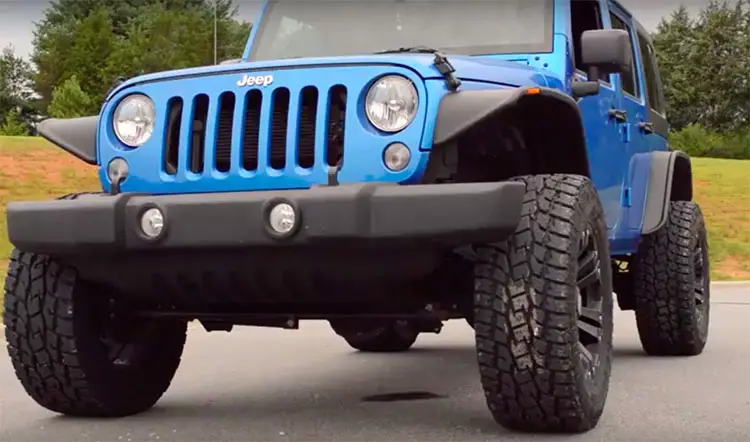 Over the last year, I've been looking at options to lift my 2015 Jeep Wrangler JKU. I'm guessing if you are a stock Jeep Wrangler owner, this might be a question you also have. After visiting with friends in my local Jeep community and researching options on costs online as well as at my local 4 Wheel Parts store, I finally have a good idea of my plan to lift my JKU and a really solid idea of two different cost options which I'll share in this article.
How much does it cost to lift a Jeep Wrangler? There are basically two options you can take. The body lift should cost you no more than $200 if you have the tools already. A suspension lift is more expensive and likely to cost you between $1,410 and $1,610.
Best Jeep Wrangler Lift Kits Compared
Here are our favorite Jeep Wrangler lift kits right now:
Fits
Jeep Wrangler JK 2007-2018
Jeep Wrangler TJ/LJ 1997-2006
Jeep Wrangler JK 2007-2018
Amazon prices last updated on 2023-11-20 / Affiliate links / Images from Amazon Product Advertising API
Top Jeep Wrangler Lift Kits Reviewed
1.MotoFab Lifts 3 inch Front & Rear Full Lift Kit with Shock Extenders
With this lift kit you can have that JK Jeep of your dreams and be able to conquer any terrain. You will get front, rear shock extenders, a high grade steel with black powdercoat finish that clears up to 35-inch tires.
This makes installing the 3″ Front and Rear Lift Kit compatible with 07-18 Wrangler JK easy as pie because it is 100% bolt on installation for you do yourselfers out there. If all else fails these products are backed by lifetime warranty so if something happens MotoFab have you covered!
2.Rough Country 2.5″ Lift Kit for Jeep Wrangler TJ/LJ
Just because you like the outdoors doesn't mean your Wrangler TJ always need to be a rugged, off-road machine. Provide it with all of Rough Country's high-quality features and make sure that when you're out there exploring, your ride back home will still feel smooth as ever.
These coil springs are progressive rate for enhanced ride quality while maintaining factory levels on both front and rear suspension systems so no matter how choppy or bumpy things get, they'll keep up without any problems at all.
Of course these performance shocks come standard but what really sets them apart from other brands is their N3 technology which not only improves handling in heavy loads – including pulling trailers – but also provides unmatched ground clearance for those times where even the toughest terrain is just too much.
3.Rough Country 2.5″ Lift Kit for Jeep Wrangler JK
Rough Country's Wrangler JK Performance Suspension Systems are unmatched in the industry. With a simple bolt-on design and at home installation, they provide you with unmatched ground clearance to conquer on and off-road obstacles or simply give your Wrangler more style without sacrificing performance capabilities.
Rough Country offers coil springs that stay put during extreme articulation for unparalleled suspension stability while providing up to one inch of lift height if desired as well as rear track bar brackets that keep the axles centered so you'll have no worries about losing control when going over rough terrain types like rocks or water.
4.American Automotive Wrangler JK Full 3″Lift Kit
The JK Full Lift Kit from American Automotive is designed to be a bolt-on kit that will lift the front of your Wrangler by 3 inches and rear by an additional 3″. This easy installation takes 2 to 3 hours with no special tools necessary. For all 2007-2018 models, you can raise up 35 inch tires without worrying about any clearance issues due to this versatile design.
This kit includes everything needed to install a lift, including steel front coil spring spacers, steel rear lifts pads, shock mount extenders that are made from anodized aluminum (to avoid corrosion), brake line brackets which provide more clearance when using larger tires on your vehicle.
5.Skyjacker 4″ Lift Pallet Kit
The Skyjacker4″ Lift Pallet Kit is one of the simplest and most popular lift kits on the market. It includes all of the necessary components, so you don't have to worry about ordering individual parts from other products in order for your installation project to be complete! The pieces are factory-sealed together, which ensures that nothing's left out or forgotten during install time.
---
What is a Jeep Wrangler lift?
A Jeep Wrangler lift kit either raises the body of the Jeep or raises the Jeep by changing its suspension configuration. Below I will share what I've learned about the difference between these two ways to lift my Jeep Wrangler. For this article, I have decided that I want to run 35-inch tires with a 2-inch lift.
Why would I lift a Jeep Wrangler?
When it comes to lifting a Jeep Wrangler, this is really the million-dollar question. Every Jeep owner I have talked with has a different reason as to why they lifted their Jeep Wrangler. However, when I boiled down all of the responses, I got by asking others in my local Jeep club are even in for forums it most often refers back to two primary reasons: Off-road clearance or the badass Jeep look, aesthetics. Your reason for lifting your Jeep Wrangler will probably dictate which of the two methods you chose. Yes, there is a hybrid version; however, I won't cover that in this post as it's not an option I would choose for my Jeep Wrangler.
If you are serious about getting off-road more than just the mall, the desired outcome is probably ground clearance, suspension articulation, and to put on bigger tires better capable of handling rough terrain. On the other hand, if your desired outcome is better looks, you might choose to spend less. Check out these two options below.
1. Body Lift
Body lifts are quite common due to the lower cost for the desired outcome. A body lift adds distance between the Jeep's frame and its body. For almost everyone, their Jeep Wrangler is a mix of a daily driver, off-road vehicle, and sometimes tools for getting to the outdoors with toys such as campers and boats. A body lift is designed as the most cost-effective way to add bigger tires on a Jeep Wrangler and to make it look great and it doesn't affect drive quality (at the size of 2-inches).
Desired outcomes
Badass Look
Bigger tires
Lower cost
Benefits
While there are some cons of the body lift, such as a little less ground clearance and the idea that your Jeep's frame might be more visible than you'd like, this is a great way to get that look you are looking for without breaking the bank. This is also a pretty simple lift to install yourself, but I'm not that guy, yet. The biggest benefit is the fact you can get your desired outcomes (above) for a decent cost.
How Much Does a Body Lift Cost?
About $200 if you do the installation yourself and if you already have all the needed tools. Check out my list below.
Estimated parts cost: $120-$200
Tools:

Jack (Tall enough to reach body of jeep) – the Hi-Lift HL484 48″ jack is a good choice for this job
Wheel chalk
Pry bar
Wood blocks
Flat head screwdriver
Hammer
Wrenches (Sizes: 9/16, 5/8, 3/4)
Sockets (16mm, 18mm, 9/16, 5/8)
Long Extension
Torx Wrench (Size: T45)
Allen Wrenches (Size: 6mm, 1/8")
WD 40
Everywhere I read about the body lift, it seems like a fairly easy job. There are several YouTube videos of how to do the work, again I'm just not that guy, yet. Everywhere I could find it states that the body lift takes moderate mechanical ability and roughly 6-7 hours to complete. My guess is that it would probably take a pro an hour or less.
2. Suspension Lift
Suspension lifts are more expensive than body lifts; however, there are many increased benefits when it comes to the desired outcome. I'll share those benefits and cost info I have found below. First, though a suspension lift increases the space between the Jeep's frame and its axle and gives the Jeep owner some different desired outcomes. Note: if not done right the suspension lift can affect the handling of the Jeep Wrangler. Seek out a professional with this one.
Desired outcomes
Highest ground clearance
Suspension articulation
Increased tire clearance
Benefits
Made for smoother off-road trips and increased clearance. When navigating rocks and rough terrain, this is important. Probably the kit I'll go with.
Cost
Mopar 2-inch lift: $910 or around $1,500 if you go the whole hog and get the MOPAR 2″ Lift Kit with Front 1310 Double Cardin Driveshaft and Fox Racing Shocks.
Metalcloak pro'lingment kit: $150
Labor: $300 – $500
Alignment: $50
Total: $1410 – $1610
As you can see this is nearly 2x the cost of the body lift; however, for the trade of the increase in clearance and the better off-road ride, it's a deal for me.
Don't forget this cost!
Tires and wheels. While you can effectively install one of these 2-inch lift options on your Jeep Wrangler for a pretty good price, many people forget to think about the cost of the tires and wheels they want. These can get expensive fast.
When I looked at my cost with 4-wheel parts the 35-inch BF Goodrich tires I wanted were just over $200 each. The wheels came in at about $175 without the color customization I'd really love to have on my Jeep Wrangler. Just plan on another $2000 for all five tires and wheels and you should be able to get what you need to both help your Jeep Wrangler look badass and preform to the best of its budgeted ability.
Final Thoughts
How much does it cost to lift a Jeep Wrangler? The answer as you saw is it depends on your budget and the benefits you are seeking. We all know that Jeep stands for "Just Empty Every Pocket" while this is my review, I have friends that have $20K plus in their suspension lift. Just too rich for me as I'd have to give my wife $20K to spend as well. Whether you are looking for a great look or great off-road performance for somewhat of a limited budget, these are a couple of great options.
Related Questions
How big of tires can I get away with if I don't lift my Jeep Wrangler?
Without good backspacing, stay stock. Otherwise, you might be able to get away with a 32-inch tire. However, wheel size plays a role in this decision.
Does a 2-inch body lift impact the stability of the Jeep Wrangler?
Body lifts typically don't have much negative impact on the stability. However, the taller your Jeep Wrangler is the more tip you might find. Wind can play a factor as well.
What is the most clearance I can get from a 2-inch lift?
Not much from the lift kit alone. You'll find some additional clearance under certain spots on the Jeep Wrangler; however, without increasing your tire size your axle and differential stay about the same. In other words, add bigger tires.
More info: How much does it cost to lift a Jeep Cherokee XJ.