I remember when I first learned how to drive. I could feel the excitement and joy surging through me – it was indeed a blissful feeling. That feeling of happiness was amplified when I finally got my own car. Our cars are a reflection of us, and we want to drive only the best. As much as possible, we want our cars customized to fit our tastes.
If you are like me, who loves long and fast rides, then you are most likely eyeing a vehicle with a Hemi engine as well. But, on the other hand, if you also love a big and classic vehicle like a Jeep Wrangler, then you may find yourself choosing which one you want best. I get it – I love Hemi-propelled cars and Jeep Wranglers too, which is why I am here to tell you that you can do a combination of that.
With that said, here is your guide on how to achieve your dream car. Let us talk about the Jeep Wrangler Hemi conversion cost and everything else you need to know.
Can a 5.7 Hemi Fit in a Jeep Wrangler?
Yes, you may place a 5.7 Hemi in a Jeep Wrangler. As a matter of fact, this is the most common swap done. A Jeep Wrangler Hemi conversion is actually a frequent thing car owners do, and with very little hassle!
As I read from this article by Motortrend, swapping a Jeep Wrangler's engine for a 5.7 Hemi is rather a straightforward job. Labour hours – of course – depend on the automotive shop you choose, but it usually does not require processes such as fabricating and welding. You can even choose to do the swap yourself at the comfort of your own garage. You will need the proper equipment like the basic toolset, angle grinder with cut-off wheels, tubing flare tool, and air-saw. Last but definitely not least, you will need an engine hoist and some way to raise the vehicle in order to make the necessary hardware loose and for the driveline to be disconnected.
However, that sounds like a lot of garage work! I am someone who loves cars, but I cannot do that. So if you are like me (a person who does not want to botch their car job), then it is best to have an expert get the job done! Although it is a "simple" procedure, it will be difficult if you do not actually know what you are doing.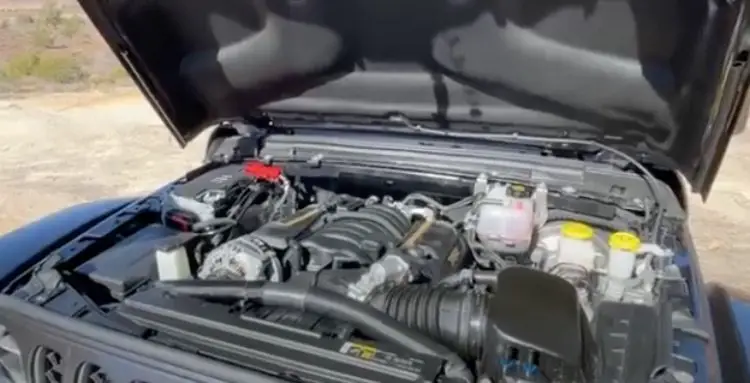 How Much Will a 5.7 Hemi Swap Cost Me?
A 5.7 Hemi swap is the most affordable way to upgrade your Jeep Wrangler with a Hemi. In order to significantly cut down your expenses, you need to retain most of the original major mechanical parts of your Jeep Wrangler. Since a 5.7 Hemi is compatible with most of these, it will cost lower compared to other engines.
A 5.7 Hemi engine has a minimum horsepower of 375 and torque with a measuring pound-feet of 395, so it will already greatly add power to your vehicle. According to this article, the cheapest option you have in this swap is purchasing a second-hand engine. This type of engine that runs for about 50,000 to 60,000 miles will likely cost you around $2,500 – $3,000. That estimation already includes most lifting hardware and miscellaneous needed accessories. But if you prefer a new one, then your estimated lowest cost would be about $6,000 while the highest is $7,000.
What Parts Do You Need for a Jeep Wrangler Hemi Conversion?
When I first started customizing my Jeep Wrangler, I learned never to forget to budget for the other parts. An engine block may be the main thing (and possibly most expensive) you need, but never underestimate the expenses for the others, namely: wiring harnesses, hoses, air box, powertrain/engine control module, power steering fluid reservoir and expansion kit, and relocation brackets.
Although you may feel most content with new parts, you should also look into old parts to save thousands of dollars. The price you pay depends on the parts you choose and your engine block. But, the average range of a Jeep Wrangler Hemi conversion cost is about $7,000 to $12,000 (including engine block, other parts, and labour).
What About Swapping in a 6.2-Liter Supercharged Hemi Hellcat?
According to Jeep brand chief Tim Kuniskis, a 6.2-liter Supercharged Hemi Hellcat engine "fits like a glove" on a Jeep wrangler. Although it may be tempting to place this engine with 707 horsepower and torque with a measuring pound-feet of 650, "fits like a glove" actually means the size is too exact that there is no longer space for comfort.
Kuniskis states that "There's no air space around the engine […] so you have no crush space, you have nothing that can be used to absorb energy in a crash."
He further explains that it is not a problem to place it. The emissions and fuel economy can easily be solved, but it would fail all crash tests – and that is where the problem comes in.
With that said, it is definitely not recommended to use this engine, but just a piece of information, a new 6.2-liter Supercharged Hemi Hellcat engine costs around $20,000.