When I started this blog it was mainly focussed on Jeep Wranglers but they are not the only off-roading vehicles out there. I've also got a soft spot for the Land Rover brand and recently I've been looking more in-depth at the Land Rover Freelander (LR2) and as my budget is limited, one of my first questions was what mileage you can get out these models.
So how many miles can a Land Rover Freelander last? Looking at an average across ten of the highest milers recently on sale on Auto Trader, the number of miles that a Land Rover Freelander / LR2 can last came out at 192,925 miles. 
There are some subtle differences between the Freelander first and second generation models which I'll cover in my analysis below.
Analysis of Land Rover Freelander mileages on Auto Trader
A brief introduction to the Land Rover Freelander
The Land Rover was launched in late 1997 with the first generation L314 model. Two different body styles were available including a 5 door estate and a 3 door semi convertible (the back roof section and sides could be removed). The first generation received a facelift in 2004 which included interior and exterior changes.
The L314 was originally introduced with the 1.8 K-series petrol and 2.0 L-series diesel engines. A 2.0 BMW diesel engine (M47) was available from 2001-2006 and these were badged as TD4s. The L314 was also available with the 2.5 V6 version of the K-series engine (KV6). Most of the first generation models were fitted with manual gearboxes.
The second generation Freelander (L359) was in production from 2006-2014 and was known as the Freelander 2 (or LR2 in North America). The Freelander 2 has a sharper look and much improved interior compared to the first generation models and these were based on a Ford platform.
Engines were all new in the L359 and included a Ford 3.2 V6 (UK & North American markets) as well as a 2.2 TD Ford/PSA unit (UK) which was available in two power outputs, the 160bhp TD4 and 190bhp SD4. In 2009 the Freelander was fitted with the fourth generation Haldex active on-demand coupling. Production creased in 2016 and the Freelander was effectively replaced by the Discovery Sport after its launch in 2014.
Mileage Research
One of the ways I could have researched Land Rover Freelander mileage would have been to speak to dealers of poll some owners. Unfortunately, I don't have access to that sort of data so I went on AutoTrader.co.uk and simply searched for all Land Rover Freelander across the UK, then sorted by highest mileage. I then picked the top 10 vehicles in terms of mileage to get an idea of what mileage to expect.
I have summarised the data in the table below.
| Year | Generation | Engine | Fuel | Mileage | Price |
| --- | --- | --- | --- | --- | --- |
| 2006 | 1 | TD4 | Diesel | 223,216 | £1,290 |
| 2007 | 2 | TD4 | Diesel | 209,738 | £3,155 |
| 2002 | 1 | TD4 | Diesel | 203,000 | £699 |
| 2002 | 1 | TD4 | Diesel | 198,121 | £995 |
| 2007 | 2 | TD4 | Diesel | 194,000 | £1,990 |
| 2009 | 2 | TD4 | Diesel | 187,173 | £1,800 |
| 2007 | 2 | TD4 | Diesel | 181,000 | £2,995 |
| 2005 | 1 | TD4 | Diesel | 180,000 | £700 |
| 2007 | 2 | TD4 | Diesel | 178,000 | £2,500 |
| 2004 | 1 | TD4 | Diesel | 175,000 | £995 |
The average mileage of a UK Freelander was 192,295 miles with the highest being 223k (a 2006 TD4 model). Model years ranged from 2002 to 2007 with the average being a 2006 model year. Average selling price was £1,712 with the lowest being around the £7,000 mark. Some low prices then if you can be sure to pick up a car that has been well looked after.
There was a good mix of first and second generation Freelander models in the table so it shows that there wasn't a particular difference between the two generations. All cars had the TD4 diesel engine. Although the Freelander was launched in 1997, the oldest car in the list is a 2002 model and I would have liked to have seen some of those earlier cars in the table.
In terms of petrol models, the second generation 3.2 V6s are very rare in the UK and at the time of my research, only 6 were available for sale on Auto Trader. The highest mileage example was a 2007 model with 162,000 on the clock. The first generation 2.5 V6 is even rarer with only 4 for sale, the highest mileage example was a 2004 model with 95,000 miles.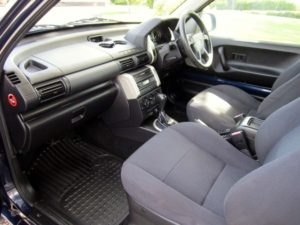 Land Rover Freelander / LR2 Service Intervals
It is important to know the service history and requirements for high mileage cars. For UK and EU Freelander models the initial manufacturer recommended services intervals for the 2.2 diesel TD4 and SD4 models were as follows:
Service every 15,000 miles or 12 months for 2006-2012 models and 16,000 or 12 months for 2012-14 model.
Service on most Land Rovers involves an alternating A and B service. A is the first 12 month service and B is the second or 24 month service.
In addition to regular servicing, there were also several major fixed mileage item replacements. Here are the major ones:
Brake fluid requires replacing every 3 years.
Flexible hoses require replacing every 6 years.
Engine coolant requires replacing every 10 years.
Gearbox oil requires replacing every 10 years
Ancillary drive belts require replacing every 150k miles (pre-2012 models) or 144k (post-2012 models).
The timing belt, tensioner and idle puller require replacing every 150k miles (pre-2012 models) or 144k (post-2012 models).
When looking at high mileage Freelanders, as with all high mileage cars, it's important to see records that the required servicing was carried out. For this specific model, I would recommend checking that the 150k mile service was completed at a dealer or good independent as this service should not be skipped due to the drive and timing belt replacements.
Were There Any Major Recalls on the Land Rover Freelander / LR2
The Land Rover Freelander never had a great reputation when it came to reliability with many owners having issues, especially when it came to the 1.8 K-series engine. The Freelander was certainly not immune to recalls during its 17 year production period. Some of the major recalls are summarised below:
Potential vehicles fire caused by a faulty heater control circuit
Sunroof may detach caused by the failure of the slide guides. In some extreme cases, the glass panel may detach.
Left hand side rear door child lock may fail if the outside handle is operated at the same time as the interior handle.
Possibility of cracking plastic fuel tanks caused by a change to specification and poor manufacturing control.
Incorrect bolts fitted to the rear subframe mountings that could result in the subframe cracking or deforming.
Possible airbag deployment failure caused by an incorrectly manufactured airbag deflector panel.
Rear hub assembly weld fracture caused by poor weld integrity.
Not perfect then by any means and a lot of issues for a car that was in production for 16 years. As always, make sure that any recall work was carried out by an authorised dealer, especially as some of the recalls involved safety-critical components.
How To Make Your Land Rover Freelander / LR2 Last Longer
Here are some general tips on how you can make you Freelander last longer:
Make sure you keep up to date with your Freelander's servicing. Even if its an old vehicle and you don't want to pay dealer prices, then it still worth having a go out some of the simpler servicing yourself.
Pay attention to any new issues that crop up and don't ignore them, as I know from personal experience, these will often become much bigger and more expensive issues down the road.
Also, carry out the required oil and filter changes according to the Freelander's schedule. This is key as the oil condition will be a key factor in getting high miles. Make sure you use decent quality oil and filters as well.
Similarly, keep an eye on your Freelander's fluid levels on a regular (I would say weekly) basis. This includes oil, coolant and brake fluid. Top up or investigate the leakage as required. Checking inside the oil filler cap will also give you an indication if the water is contaminating the oil.
Warm up and cool down. As with exercising, make sure that you let you Freelander idle for a few minutes before setting off and likewise, let it cool down before switching off the ignition, especially if its been running at high speeds or off-roading.
Land Rover Freelander TD4 Reliability
One of the questions I see asked a lot is around the reliability of the TD4 engine, either in first or second generation models. The TD4 was actually two different engines. In the first generation is was a 2.0 BMW M47 engine and n the second generation it was a 2.2 Ford/PSA unit. During my research, it showed that both TD4 models were capable of achieving mileages up to 200,000 miles.