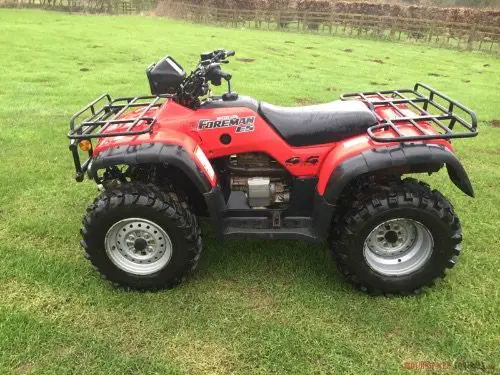 There are quite a lot of ATVs available today. Yet, only a few have surpassed the expectations of people, over the years, with their excellent features and specifications.
Honda Foreman 450 ATV is one of the most boasted models by the Honda company, introduced in 1998. This model comes in two main types, such as Honda Foreman 450 S (manual-shift) and the Honda Foreman 450 ES. (electric-shift)
Owing to its versatility and high-performance, there is no doubt that it has definitely impressed ATV enthusiasts.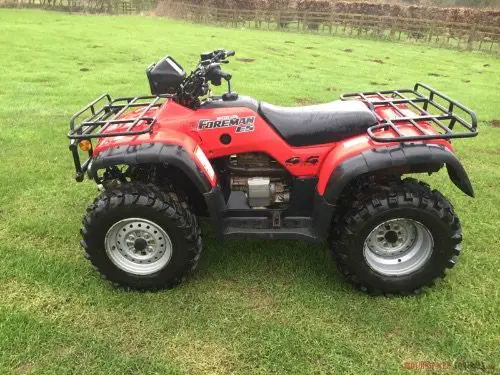 Now, is Honda Foreman 450 ATV one of the good ATVs and well-deserving for all the praise? This review covers everything from the specifications to the good and the bad of this line.
Specifications and Features of Honda Foreman 450
There are plenty of great features and specifications in the Honda Foreman 450, that pack an outstanding performance.
Engine
The engine of Honda Foreman 450 is a four-stroke and air-cooled single cylinder. As the manufacturers have mounted it longitudinally, it definitely helps in reducing some of the extra weight. The engine bore stands around 90 millimeters and the stroke is around 68 millimeters. As for the fuel-tank capacity, it stands around 12.1 liters or 3.2 gallons.
Ignition and Power
Talking about the ignition, it consists of Capacitor Discharge Ignition or CDI. In addition to that, it also has an electric/pull starter system. When it comes to the power of this ATV, it comes with a five-speed transmission, having a reverse gear. Additionally, it also consists of ESP or Electric Shift Program.
Brakes and Tires
As for the brakes, the front ones are hydraulic drum brakes with dual sealing. The rear one is a mechanical drum with single sealing.
Moving on to the tires, the front ones are Dunlop® 25 X 8-12 tires. The rear wheels consist of Dunlop® 25 X 10-12 tires. The wheelbase comes about 50.2 inches.
Dimensions of the ATV
The dimensions of the Honda Foreman 450 ATV are – the ATV length is 77.28 inches and the width is 45.3 inches. From the ground, the height is 45 inches.
The ground clearance of this ATV is around 7.7 inches. As for the dry weight, it is about 595 pounds. The gross vehicle mass stands around 1,102 pounds. Lastly, the turning radius stands at 11.5 feet.
Appearance
The exterior appearance of the Honda 450 4 wheeler consists of a lightweight plastic body, along with steel frames. In addition to that, it consists of full floorboards for further safety.
Suspension
Both front and rear suspensions offer a lot of stability as the front one boasts an independent double-wishbone, having lower and vertical control arms.
On the other hand, the rear suspension comes with a steel finish and swing arms. It also contains two shock absorbers coming with shock travel of 5.9 inches.
Other Specifications
Other specifications include – availability of two lights near the front fenders and a handlebar light all use multi-reflector lenses of 45 watts.
TraxLok system is also available that allows flexibility in choosing between 2WD or 4WD as per the driver's requirements.
So, this concludes the list of all the exciting specifications Honda Foreman 450 has to offer.
Honda Foreman 450 ATV: Model Years Available
Over the years, Honda Foreman 450 has come in various models. Now, while some of them are still available, the brand has discontinued certain models.
For instance, during the period between 1999-2001, three models were available such as 1999 Honda Foreman 450, 2000 Honda Forman 450, and 2001 Honda Foreman 450.
Then, during the period of 2003-2004, two more models, namely, 2003 Honda Foreman 450, and 2004 Honda Foreman 450 came out.
One can still get any Honda Foreman 450 for sale at varying prices due to the modifications.
Pros of the Honda Foreman 450
Honda Foreman 450 is one of the most durable and sturdiest ATVs out there owing to their built and motor too.
One of the best things about this ATV is that it can climb the steepest of the landscapes quite smoothly. The power it offers is phenomenal and thus, makes it extremely flexible and suitable for any type of terrain.
Another phenomenal feature is the combination of the manual transmission with ESP. Additionally, the thumb-shifting feature of this ATV is quite commendable too.
Now, what about the maintenance? As mentioned above, this ATV is on the sturdier side, so it is strong enough to handle any obstacles, be it rocky areas or muddy terrains without any scratch. Hence, it is quite easy to maintain.
During winters, even if one leaves it in the garage overnight, they can easily cold start it without any inconvenience. As for the comfort, the seats are of the perfect height and there is no need to compress the shocks whenever one is heading out.
Overall, Honda Foreman 450 ATV is definitely a praise-worthy and sturdy choice fit for all types of terrains.
Cons of the Honda Foreman 450
A brand new Honda Foreman 450 doesn't come with a lot of limitations.
Yet, if one is planning to go for second-hand models or cheap ones, they may encounter quite a lot of problems. For instance, some parts may not be working efficiently which can become risky. There are chances of oil and noise leaks, along with the poor condition of rear brakes.
On the other hand, buying fresh models may become expensive for some, owing to any new modifications in the quad.
One may also want to consider double-checking parts like speedometer, brakes (mainly rear), and wheels (mainly front), as there have been some complaints about them.
Final Thoughts: Is Honda Foreman 450 ATV Worth It?
To conclude, yes, Honda Foreman 450 ATV is definitely worth it because of its exemplary power and versatility as long as it is in good condition.
However, extra care should be taken while going for a second-hand option as they usually require a lot of amends and repairs.