The Yamaha Wolverine 350 was first launched in 1995, and many people are surprised to know that many of the ATVs purchased over 2-decades ago now are still being used on a daily basis. However, people shouldn't really expect any less. Yamaha ATVs are known for being some of the best around, and the Wolverine has more than proven its worth.
This ATV is a hybrid between a vehicle designed for daily use as a 'work vehicle', and those that want to do a bit of light off-roading. It may be bulky, but this is a bit of kit that handles seriously well out there in the fields.
Specifications and Features
The Wolverine 350 makes use of a four-stroke, single-cylinder engine. This engine should provide more than enough power to send this 216kg beast of a machine almost 50mph in ideal conditions.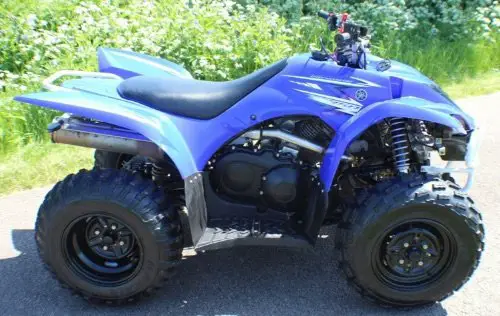 The Wolverine makes use of Yamaha's Ultramatic transmission. This unique design can be found in almost every single Yamaha ATV and has been like that for over 20-years now. The Ultramatic transmission helps to increase the lifespan of the transmission system, with many of the original ATVs offering this system (of which the Wolverine 350 is one of them) having a transmission system that has barely required any maintenance.
The transmission system is manual and features four-speeds plus reverse gear.
The brakes are the only time that there is ever a real difference between the early models of the 350 and the later ones. Any model from 2000 onward will use a fully sealed drum brake. This just increases the lifespan. It isn't functionally similar to the original brakes that sat on the vehicle. This is two discs on the front wheels and one on the back.
One of the 'highlights' of the Yamaha Wolverine 350 was the number of upgrade options available when the purchase was originally made. This means that many of the units available used are going to be different, and a good buyer will make sure that they know exactly what they are getting. For example, some of these vehicles came equipped with radios, and some with winch systems. All of them have under-seat storage, which is highly beneficial when somebody is out there working day-in, day-out.
Model Years Available
The Yamaha Wolverine 350 was released in 1995, and the design stayed the same up until it was discontinued in 2005. This means that there aren't model years, as such. Obviously, the vehicles were manufactured each year between 1995 and 2005, but a 350 from 1995 shouldn't be functionality different from one released in 2004. The only difference will be that the older model probably has a bit more wear and tear.
How Much Does the Yamaha Wolverine 350 Cost?
The price should be between $1,500 and $3,000. This depends on the condition of the vehicle, as well as the model year that is being purchased. Buyers should note that the high customization of the Yamaha Wolverine 350 when initially purchased means that many of these vehicles may offer different features.
Pros of the Yamaha Wolverine 350
The Wolverine 350 is a solidly built machine. There is a reason why Yamaha never changed up the design in 10-years. There is also a reason why so many people are falling over themselves to buy the Wolverine 350. It just works.
This is a vehicle which, while you can take it off-road, is there for those that want something to work with. Vehicles like this need to be solidly built. No worker will want to be maintaining their vehicle regularly outside of a light clean. This is why there are so many Wolverine 350s available that were built in 1995. Even with the minimum of maintenance, they continue to function out there in the field. There may be a bit of knocking of the components here and there, but it is never really going to be a major issue.
On the off-chance that something does break, then this is an ATV that is easy to source spare parts for. It was popular, and the fact that it never really went through major design changes means that many of the spare parts are compatible.
The real thrill of this ATV is just how versatile it is. While it is never going to be winning any speed trials, it is one of those ATVs that people can have a lot of fun with when they are not working, or even when they are working. It is smooth to drive. Turning is a breeze, and it feels great to control, even if somebody is fairly inexperienced in the world of ATVs.
Cons of the Yamaha Wolverine 350
There are not that many major issues with the Yamaha Wolverine 350. No ATV is going to garner such a reputation if it was a flawed product. That is for sure.
Any issues that do seem to present themselves tend to be due to the age of the vehicle more than anything else. However, the vast majority of these issues can also be resolved by buying spare parts which, as mentioned, are going to be very easy to come by.
The only real issue that people seem to have is that the acceleration can feel a little bit 'bouncy' when the vehicle is first turned on. However, this is a problem that clears up pretty quickly and is literally only there when the ATV is turned on.
Conclusion
The Yamaha Wolverine 350 may be an old vehicle, but it is one that has contributed to the success of pretty much every Yamaha ATV since its release. This is a vehicle that really is a monument to how well Yamaha used to make ATVs, as well as the continued quality of their products. Even if somebody purchased a 1995 model, with a bit of TLC, there is no reason why the 350 couldn't be out there on the road for many years to come. For new ATV owners, or business owners that want a working vehicle, this is a great choice.