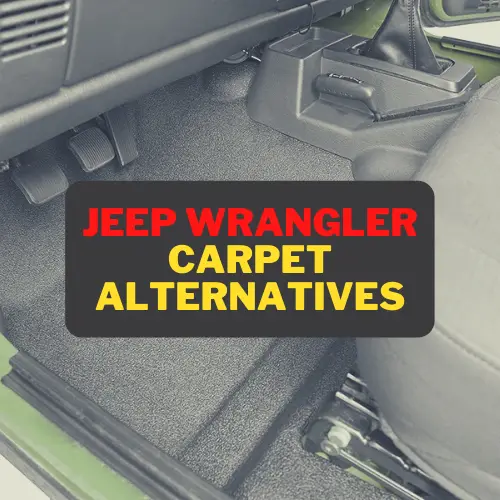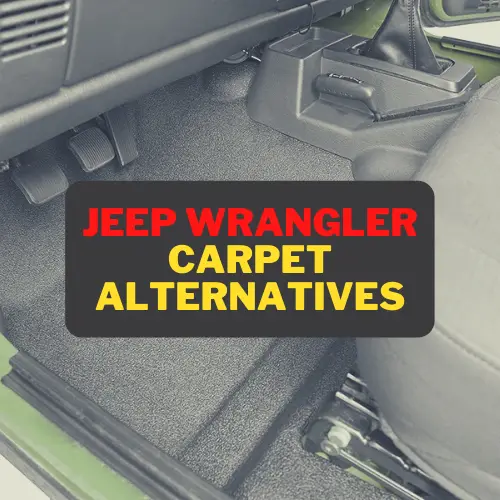 If you are looking to remove or replace your original Jeep Wrangler carper then there are several alternative, from spray-on materials to new mats. In this article I take a look at what options are available if you are intending to replace your Jeep Wrangler carpets.
To get straight to the point, in my opinion the the best one is Raptor Black Urethane Spray-On Truck Bed Liner. This is a relatively easy to use bed liner spray kit that comes with a spray gun to apply the line to your Jeep Wrangler. This is quite a step away from carpet and is it is a lot more suitable for handling mud and water. There is also the added benefit that  this product should help protect the floor against rust.
While the Raptor spray-on liner is my favourite, there are also a few more alternatives, which I have looked into a researched below.
Best Jeep Wrangler Carpet Alternatives
[table "" not found /]
8 Jeep Wrangler Carpet Alternatives Reviewed
Here are our top picks for the best alternatives to standard Jeep Wrangler carpet
In my opinion, the most reliable product to use for as a carpet alternative is Raptor Black the Raptor spray-on liner. This hardener kit is easy to apply because it comes in a simple shake and spray formula. There is enough material in this kit to cover a larger surface area, so plenty for your Jeep.
While this protective product may have a different finish from what was originally in your Jeep Wrangler, it comes with a roller brush so you have different textures for your Wrangler's flooring.
The prep work for this product is very minimal, you simply have to clean and dry the area before applying the liner. You can even use this product over adhesive products that were applied previously and may have begun to chip.
This product is ideal for a Jeep Wrangler owner who wants to line their entire vehicle's flooring. It is also good for anyone who owns an older Jeep Wrangler that may have started to rust as the Raptor line can help to seal up rust to prevent further damage.
---
An alternative to the Raptor spray-on liner is the Herculiner brush-on bed liner kit, as while it was originally designed to line truck beds, many Jeep users have been using it to coat their vehicle's flooring.
This product allows Wrangler owners to apply a durable protective coating that is hard wearing. Reading reviews, many users state that this coating doesn't chip or peel, even if they use their vehicle often.
The Herculiner brush-on bed liner kit is essentially a textured polyurethane coating and is great for Jeep Wrangler owners who are up for a DIY project as it's easy to apply with the rollers provided in the kit.
---
BedRug specializes in making custom floor kits for Jeep Wranglers that are far sturdier than the original carpets in these vehicles. This is the perfect Jeep Wrangler carpet alternative for people who aren't as confident in their DIY skills at tackling a spray or brush-on kit.. BedRug makes several custom kits, depending on which model of Jeep Wrangler you are driving.
These kits give a solid textured look within minutes, and the best part is that they are not required to do any labor or intensive work to install these floor kits. Unlike other the original carpet, you won't need to remove the center console or seat brackets, as when the pieces get dirty, they can easily be removed to clean off and put back in without hassle.
BedRug Jeep kit provides a waterproof alternative to carpet and they won't stain or get moldy, plus they are also resistant to harsh chemicals. Many Jeep Wrangler owners also claim that this kits reduces the road noise virus the standard carpet installation.
---
Awemat makes custom-fit car floor mats for most Jeep vehicles and these floor mats are measured by a digital laser, making it easier for the company to make custom mats instead of generic mats.
The walls of these mats are deeply sculpted for the best possible coverage. They help keep the interior of your Jeep Wrangler clean by trapping all the dirt, dust, and debris that you bring into the Jeep.
To make sure the flooring of your Jeep Wrangler stays in prime condition, these mats are 100% waterproof. There are three levels of material used n these floor mats to ensure that the flooring is fully protected, and in my opinion, the extra layers don't cause them to look bulky or out of place.
These custom-fit car floor mats are an excellent choice for anyone who is fed up with the trying to keep the carpet in their Jeep Wrangler clean and wants to replace them with protective floor mats.
---
The Rugged Ridge front and rear floor liner kit is an alternative to the Awemat, and these heavy-duty mats are made from an all-weather material, so they will continue to protect your Jeep's flooring throughout the harshest conditions.
These are the ideal Jeep Wrangler carpet alternative mats for the owner who loves to go off-roading as the all weather material that the Rugged Ridge liner is made from is easy to wipe clean within minutes.
Rugged Ridge is a well established company that's known for their premium Jeep parts and they offer every customer a 5 year warranty.
---
When you're looking for a Jeep Wrangler carpet alternative that is on the more affordable side, the Husky Liners Front Floor Mats are an excellent pick. These floor mats have Stay Put Cleats which are exclusive to Husky Liners and secure these mats in place. Each mat is made through a formfit design process so that the liners have detailed contours that are specific to your vehicle. This ensures that everything fits perfectly and the Jeep Wrangler's flooring stays protected.
One of the coolest features of the Husky Liners Front Floor Mats is that that are embedded with a formfit edge, which is essentially a raised ridge which sits on the Jeep Wrangler's door jam. This allows the mat to collect any mess coming into the vehicle before it gets a chance to hit the floor.
---
Many Jeep Wrangler owners are searching for a carpet alternative, but don't want to do anything to major when it comes to finding an alternative. The Jeep OEM Front and Rear All Weather Floor Liners is a simple solution that will keep your Jeep Wrangler's floors protected.
This 4 piece liner set is made from all weather material and is designed in a bucket style to allow the most protection. Once these mats are placed, you won't need to remove them because they have been designed to fit your Jeep Wrangler's drain holes. Unlike the Jeep Wrangler carpets, these mats have grommets to keep them in place.
---
Bestop understands just how dirty a Jeep Wrangler can get, so they built these front floor mats with that in mind. These mats won't slide like the Jeep Wrangler's carpet does because they are custom molded to be the exact fit. They are a great choice for anyone who is worried about damaging the Jeep's carpeted flooring.
Since these mats are contoured to be the perfect fit, drivers don't have to worry about them ever coming out of place. They are built to withstand the toughest conditions and last a lot longer than many generic floor protectors.
The best part about these mats is that they also come with treads on top to prevent slipping and also feature a raised lip to keep mud and other substances from touching your shoes.
---
Our Verdict
Your Jeep Wrangler is a big investment, and it's worth using the best products to keep it in good condition. The best alternative for Jeep Wrangler carpets is Raptor Black Urethane Spray-On Truck Bed Liner because this product will provide your vehicle's floor with full coverage while treating any rust that may have already occurred. This product covers your floor's entire surface area so you don't have to worry about any damage occurring, no matter how dirty your Jeep gets.