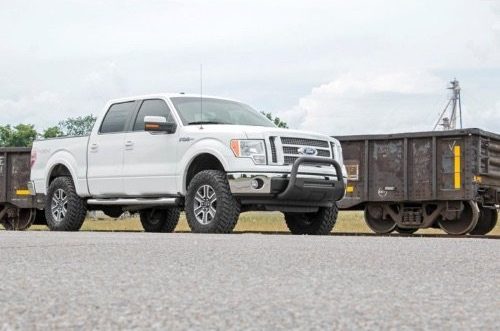 Lifting a Ford F150 is useful for a variety of different reasons. Perhaps the main reason why people lift their Ford F150 is that they want to attach larger tires to their vehicle.
So, how much does it cost to lift a Ford F150? Surprisingly, not a whole lot. A lifting kit can cost as little as $700 and as much as a few thousand dollars. Installation can cost around will cost, at the most, $1,000. Plenty of mechanics will offer a far cheaper rate than this, though.
Of course, before a vehicle owner even thinks about purchasing a lifting kit for their Ford F150, it would be wise to understand the various options available on the market.
What are my options when it comes to lifting a Ford F150?
There are a few different options available for those that wish to lift their Ford F150.
Perhaps the best solution is a lift kit. There are two main options available here. There will be a body lift kit, which will lift the vehicle up a few inches at the most. These kits are mostly designed for those Ford F150 owners that wish to add enough height to their vehicle that they can add slightly larger tires. This is great for off-roading. Alternatively, there is a suspension lift kit. These kits can lift the vehicle's body up from the wheel axles at a height that no other lifting kit can accomplish. Although, they are a bit more complicated to install.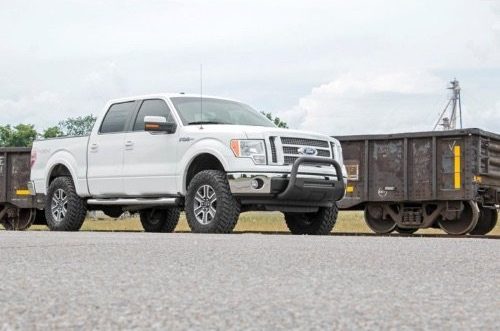 If a driver only wants to lift the front of their vehicle, then there will be Ford F150 leveling kits. Their job is to bring the front of the vehicle in line with the back. This will help to offer a smoother ride.
The final option will be getting larger tires. However, this isn't really a decent option unless the vehicle owner is looking to cut corners. This is because larger tires may not fit in the wheel well. It can also cause issues with the speedometer. It will barely add any height either. The best option is to combine larger tires with one of the various other methods to lift a Ford F150.
What is the Best Lift Kit for a Ford F150?
For those looking for a vehicle lifting kit, there are a few options available. These two are among the best kits available right now, which should hopefully make it a bit easier for people to discover the answer to the question 'how much does it cost to lift a Ford F150?'. It is important to remember that a vehicle owner will need to pay for installation on top of these prices. A lift kit is not really something that should be installed without experience.
Rough Country 3″ Ford Bolt-On Suspension Kit
This is a 3-inch lift kit for Ford F150. It is perhaps one of the easiest to install lift kits on the market. There will be no cutting or drilling required. If the vehicle owner wants to get rid of their lift kit, then it is easy to remove and return the vehicle to stock too. With the purchase of Rough Country wheel spacers, the vehicle owner will even be able to use their stock wheels, which helps to keep the cost of a lift kit to the minimum.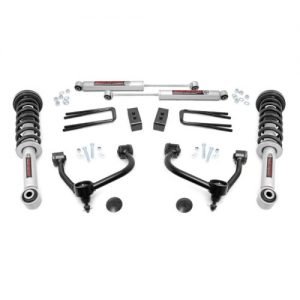 This entire kit has been designed to help replicate the feel of the stock Ford F150 while still lifting it slightly off of the ground. The lift will only be 3-inches, but for most people, this is more than enough. There is no sense in spending extra cash on a 4 inch lift kit for Ford F150 4×4 if there is no need for that extra inch.
Rough Country 6″ Suspension Lift
This 6 inch lift kit for Ford F150 4×4 is perfect for those that need some seriously large tires on their vehicle. It can work with 18″ or larger tires, so it offers fantastic ground clearance. This makes this kit ideal for those that want to take their Ford F150 off-road.
The installation of this kit is a little bit more complicated than the previous one. This is because it requires cutting and drilling. However, almost every mechanic should be fine with that. The more complicated installation means that once this is in place, it is a lift kit that will last for life. As with all Rough Country products, this suspension lift is exceedingly durable.
Everything required to install this Rough Country 6″ Suspension Lift Kit is included in the box. The only thing that is required will be tools, but nothing specialist is needed there.
What is a Ford F150 Leveling Kit and How Much Do They Cost?
Stock vehicles will have a front that sits lower than the rear of the car. There are benefits to having this feature on a vehicle, but most people do not actually require it. This is where a lift kit comes into play. Rough Country offer a 2″ levelling kit for the F150. For a 2009-2022 model F150 expect to pay around $50.
The purpose of the lift kit will be to help level the front of the vehicle with the rear. This helps to create a far smoother ride, particularly if the Ford F150 is being driven off-road.
The cost of a Ford F150 leveling kit will be dependent on the model purchased. However, the average cost will sit somewhere between $300-$500. It will cost about the same to have it installed.
Have a Ford F250? Check out our article on lift kit costs.
Conclusion
Having a lift kit installed on a Ford F150 is a fantastic option for those that need larger tires to ride off-road. It is likely that it will cost somewhere in the region of $1,500-$2,000 to purchase a lift kit and have it installed on the vehicle.