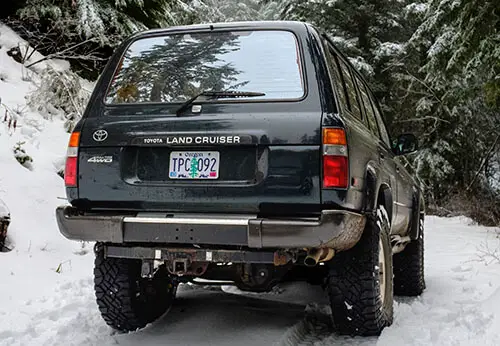 Planning to purchase a pre-owned version of a Toyota Land Cruiser, I was eager to find out how far this machine could go, or how long can an 80 series Land Cruiser last? With thorough research, here is what I found. As it turns out, this legendary off-roader was specifically built to last forever.
So how many miles can a Toyota Land Cruiser last? Based on research, most of the used Toyota Land Cruisers can exceed more than 300,000 miles with proper care and maintenance. The longest ever recorded was a version bought in 1984 that had reached roughly 460,000 miles in 2017- a world record in Guinness.
Off road enthusiasts are on the lookout for Toyota Land Cruisers in the used cars market because of its incredible reliability and longevity. The mere fact that even old versions are being sought after is proof of its resilience over time. Find out why buying a Toyota Land Cruiser is one of the best life decisions you'll ever make.  
The Toyota Land Cruiser is Built to Last
Destined for greatness, the Toyota Land Cruiser remains on top of the game in the used-car market owing to its rock-solid reputation as a highly dependable, durable, and remarkably capable off-road vehicle. Its evolution over the last 60 years in terms of design, performance, and life span has exceeded expectations.
In research conducted by an online site, iseecars.com, which analyzed 15.8 million used cars in the U.S. in 2019, the full-size Land Cruiser ranked first as having the highest percentage of pre-owned cars to reach more than 200,000 miles on the odometer. It even topped the list of vehicles that can last for 300,000 miles at 1.5%! It is no surprise that Toyota has already sold 10 million units since the debut of this luxurious off-roader in the 1950s. 
What is High Mileage for a Toyota Land Cruiser?
A high mileage for Toyota Land Cruisers is 200,000 miles on the odometer, a thing that naturally happens because it has always served its purpose: to conquer terrains at greater distances for a very long time. Although high mileage is a thing to worry about buying used cars in general, it's no longer a deal breaker for purchasing secondhand Land Cruisers. Models from the 1980s and 1990s that are being sold nowadays are more resilient to wear and tear because of high technology and more sophisticated design.
The Toyota Land Cruiser Series
In the 1950s, the first ever land cruiser was called a Jeep BJ, a military prototype designed by Toyota to be used in World War II. It was initially a basic utility vehicle meant for off-road use.
Toyota later changed its name as "Land Cruiser." In 1960, the 40 series emerged with a distinct frame and body, and more horsepower at 125. It had a low-range gear that has significantly improved the off-road experience. In 1967-1980, the 50 series was made as a transition from a utility to a family-friendly four-door automobile. It had a funky touch to it, also called the "Iron Pig" because of its two-tone color and wonky-looking design.
Around 1980, Land Cruiser 60 series remained indestructible, tough off-road, and had a more family-oriented feel with a more comfortable interior, standard AC, and power windows.
 The Land Cruiser 80 series began to hit the road in 1991 to1997. It became an SUV icon, the flagship model for a luxury car, and the rival of the range rover. It was built with a sleek exterior, streamlined curved surfaces, and a unique bar-type grille. The interior has a notable upgrade, an instrument panel with differential lock feature and a center console offering a high-class comfort.
The power performance is optimized because of the 3F-E engine. It was made of heavy-duty by adding solid front axle stronger than independent suspension. Specific features were added such as airbags and anti-lock brakes. This series is highly reliable as they have exceeded 300,000 miles with very low maintenance and minimal costs for replacement of parts.
The first model with independent front suspension and a V8 engine is the Land Cruiser 100 series that debuted in 1998 until 2007. The solid axle was replaced by a double wishbone type for independent front suspension, sacrificing a bit of its off-road capability to favor on-road comfort. It has high-end technology with a hydraulic vehicle height adjustment and electronic modulated suspension. These models are more sophisticated and provided utmost comfort during long drives.
The latest series that started in 2007 is the 200 series, the biggest of all the rest with a more high-end technology to meet both off-road capability and modern safety. It one of the most luxurious, most expensive and heaviest SUVs ever made. One of the sophisticated features is the crawl control and hill descent control.
What is the best Year for used Toyota Land Cruiser? If you are looking for real off-road adventures like rock crawling, an 80 series, or older, are the right fit.  For daily driving, the 100 series would be best due to the comfortable interior, modern safety features, and reasonable price. 
Are Old Toyota Land Cruisers Reliable?
The intrinsic design for long-lasting off-road use makes these versions dependable. However, no car is perfect and there are some things to consider before making a smart buy. Common problems encountered in a 100-series land cruiser is engine gaskets failing, oil leaks, and being heavy on fuel. An 80 series land cruiser, on the other hand, may have chassis cracks around the steering box, weakened handbrake, or power steering leak. All these can be avoided with proper maintenance.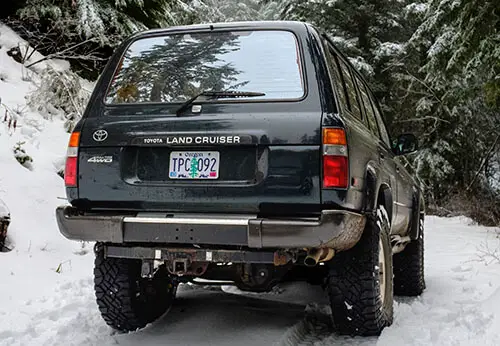 How to maintain a Toyota Land Cruiser
After reaching those unbelievable miles, how can a pre-owned Toyota Land Cruiser hold up? Are land cruisers expensive to maintain?
Proper car maintenance is the best solution for a long-lasting Land Cruiser.  The good news is it's a low- maintenance vehicle. Following the recommended maintenance service schedule prevents major problems in the future. If there are any small issues arising, it is better to fix them quickly.
The bottom line is that a Toyota Land Cruiser is the best buy for any off-road enthusiast. Its durability, capability, and most importantly, longevity remains to be unbeatable. 
Frequently Asked Questions
Is the Toyota Land Cruiser reliable? Absolutely yes. As an off-road vehicle, the Toyota Land Cruiser was designed to withstand extremely harsh conditions and has been consistent in being a highly dependable, highly capable, and long lasting. 
Do Toyota Land Cruisers have a lot of problems?  Overall, owners did not find any Toyota Land Cruiser reliability issues other than the usual wear and tear problems.
---
More information
Check out our other Toyota reliability guides: