The Toyota Highlander is a Toyota SUV that was introduced in 2000. Toyota has been making quality vehicles for many years, and Toyota Highlander is no exception.
So, how many miles can a Toyota Highlander last? As it stands right now, the Toyota Highlander can last well over 180,000 miles without too many problems occurring.
The most common problem with the Toyota Highlander is trouble with the transmission and engine oil leaks at around 90-110,000 miles; however there are other issues such as the stereo system not working properly. The most costly issue is stripped engine bolts.
In this article we take a look at Toyota Highlander's reliability and longevity as well as what were the best and worst years of production in terms of complaints.
The Toyota Highlander is now in its 4th generation and was launched back in 2000. First generation models ran from 2000 through to 2007. The second generation models were in production from 2007 until 2013.
2013 saw the launch of the third generation models and this generation was discontinued in 2019. The latest fourth generation models were launched in 2019.
Are used Toyota Highlanders reliable?
When it comes to reliability, the Toyota Highlander is not as reliable as Toyota's other SUVs. In general, the Toyota Highlander is a good car but it does have some issues that can be fixed if you know about them before buying.
Checking on iseecars.com, the Toyota Highlander scores 8.3/10 for reliability in the midsize SUV class. This is lower than the Honda Pilot's 8.6/10 and Toyota's own 4runner (8.7/10), but is better than the Ford Explorer which only scores 8.1/10.
What is the most reliable year for Toyota Highlander?
When looking at complaints on carcompliants.com, the year with the lowest number of complaints was 2007, closely followed by 2009.
In 2007 there were no major issues reported and in 2009 the main problem reported was excessive oil consumption. This is something definitely worth checking out to ensure that there are no oil leaks that could lead to more costly repairs.
What are the worst years for Toyota Highlander? What Toyota Highlander should I avoid?
Surprisingly, the more recent 2015 production year has received the most number of complaints. The main reason being drivers and passengers complaining of uncomfortable seats, particularly over longer journeys. Unfortunately this is not a problem that can be easily fixed.
Other problems in 2015 were issues with the audio system whereby any previous settings were continually being reset. This was more of an annoyance for drivers rather than a serious (and costly) mechanical issue.
What are the most common problems with the Toyota Highlander?
Some Toyota owners report that the most common problem with their vehicle is a stripped thread for engine bolts. If this occurs, it can be difficult to remove and replace without any specialized tools. Fortunately, there are many mechanics who specialize in repairing these issues – you just need to find one in your area.
The 2003 Toyota Highlander has proven more problematic than other models because of threads on some of its engine bolts that have been found to strip easily over time or high-stress use situations. Unfortunately, the most common fix for this is a complete engine replacement, with an average repair cost of around $3,000.
Are Toyota Highlanders expensive to maintain?
The Toyota Highlander is a reliable, affordable SUV. With RepairPal data indicating that the annual cost for maintenance on this vehicle will be around $500, its comparable in maintenance costs to other midsize SUVs models from popular brands like Ford and Honda.
One of the more expensive parts to replace are the Toyota Highlander's tires, with new rubber for the Highlander costing anywhere from $150 to over $500, depending on where you buy them and the model you have.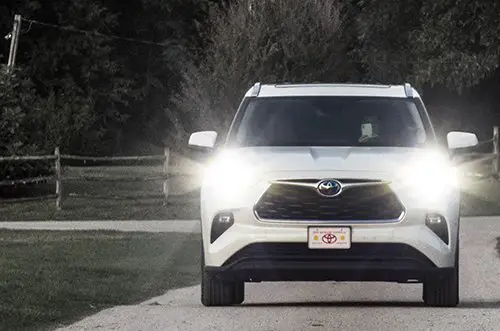 The transmission on the Toyota Highlander should be good for between 100,000 to 200,000 miles. However you will need to change or flush the transmission fluid at the recommended intervals which is typically every 30-60 thousand miles for most models of cars. If not done regularly and often enough this could end up costing you an eye-watering $3,500+ in repairs due to wear and tear caused by being neglected over time.
Were there any major recalls on the Toyota Highlander?
When looking at manufacture recalls, the National Highway Traffic Safety Administration (NHTSA) have 34 recorded. One of the last recalls was in 2020 that affected 2017-2019 Highlander models (along with other Toyotas) and relates to the possible failure of the fuel tank fuel pump. This has the potential to cause the engine to stall and in worst cases could lead to loss of control with the vehicle.
Owners should have been notified about this and Toyota dealers will have replaced the part. Ensure that if you are looking at a 2017 to 2019 vehicle that it's had this remedial work carried out.
What are the best alternatives to the Toyota Highlander?
If you are looking for a mid-size SUV, then good alternatives to the Highlander include Toyota's own Venza and 4Runner, and the Honda Pilot.
Ford's Explorer and Edge are also worth consideration, although they have a lower reliability score than the Highlander.
Conclusion
The fact that this model is now in its fourth generation proves that Toyota has a popular car with the Highlander. This car is not expensive to maintain and the cost of maintenance does not vary much from year-to-year.
The Toyota Highlander can last for several hundred thousand miles but it all depends on how you drive it and how well the previous owners cared for it. As with all used vehicles, it is worth it in the long run to pay for a car with a good service history.