Chevy Trailblazers have been on the market since 2002. Chevy has had a lot of years to work out any kinks in this SUV, but there are few things that can go wrong with it. The Chevy Trailblazer is reliable and dependable for most people who drive them.
Chevy also makes sure that they are easy to maintain as long as you keep up with oil changes and other regular maintenance items.
So, the first question – how long can a Chevy Trailblazer last? Most Chevrolet Trailblazer can last for 250,000 miles before needing major repairs. This is a good number and should be enough for most people who are not driving their car every day back and forth to work, or going on lots of long-distance trips over the course of the year.
The Trailblazer was first launched as a standalone model in 2001 and was in production until 2008 (in North America) so there are plenty of models to choose from .
The 2002-2005 first generation (KC) TrailBlazer was one of the first successful SUV's to have four-wheel drive available as an option. Fewer than 10% of TrailBrazers are sold with four wheel drive, but those who do upgrade find themselves in a safer and more reliable vehicle that can handle the midwestern winters much better.
The second generation Trailblazer is a popular off-road vehicles in Thailand. There are two versions, manufactured and sold by Chevrolet – a Thai version made for this country at its plant near Bangkok, and an international model built under license from Holden that's marketed as the Colorado 7 until 2016 when it was renamed to follow Chevy practice with rebadging.
In this article we take a look at the most reliable years of production and what can typically go wrong with these vehicles.
Are used Chevy Trailblazers reliable?
When it come to reliability, the Chevrolet Trailblazer is a mixed bag. Many owners say that they are really problematic and unreliable, while others have few complaints about them.
Since there is such disparity in opinion on the reliability of these vehicles, it's best to look at which models were the most reliable, since some years had better reviews than others.
What is the most reliable year for Chevy Trailblazer?
When looking at the different Chevrolet Trailblazer production years, the year with the least number of complaints was 2006, with 2007 and 2008 also being good years.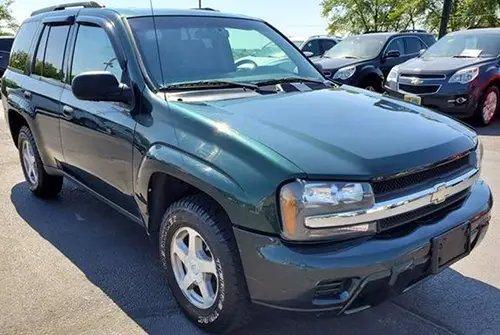 The problem with the faulty fuel gauge (see below) was still present on 2006 production models but by the 2007 production year, complaints for this issues had started to decline.
What are the worst years for Chevy Trailblazer? What Chevy Trailblazer should I avoid?
The 2005 Chevrolet Trailblazer production year had by far the highest number of report complaints. The most reported problem was with fuel gauge malfunctioning. In fact the whole instrument cluster was also affected as there we also significant complaints for speedos not working and the whole instrument panel malfunctioning.
What are the most common problems with the Chevy Trailblazer?
As mention above, the instrument cluster on the Trailblazer if very problematic but other issues do exist. The most common other problems that owners reports about the Chevrolet Trailblazer are related to the cooling system, but these are typically not major problems, as long as you ensure your cooling system is regularly topped up and that you look out for any overheating issues.
Other common complaints include transmission failure and fuel pump failures. A car with bad gas mileage might have a clogged catalytic converter or other engine problem so it is worth taking any vehicle on a longer test drive so you can observe fuel consumption for yourself.
Do Chevy Trailblazers rust easy?
When it comes to rust issues, the Chevrolet Trailblazer is known for not being as susceptible to rust. In a recent survey conducted by Consumer Reports, the Chevrolet Trailblazer was ranked among one of the most reliable vehicles for weathering steel corrosion and other issues that might cause it to rust.
As always, take a good look under the vehicle for any rust issues. If you can't see any, then the vehicle should be considered safe from rusting issues and will likely not have to worry about this problem in he future.
If there is some rust underneath, it is best to avoid these vehicles as they may start exhibiting more of a propensity for corrosion over time. Or at least budget this into the asking price as its likely to involve potentional expensive repairs at the auto shop.
Are Chevy Trailblazers expensive to maintain?
Looking at maintenance costs, the Chevrolet Trailblazer is a relatively inexpensive vehicle to maintain. In fact, it's one of the lowest-priced SUV models currently available on the market.
Parts that do require attention or replacing on the Chevrolet Trailblazer include the timing belt, brakes, battery and tires. However, these items are fairly standard on any vehicle that drives a lot of miles.
There's no reason to believe the Chevrolet Trailblazer is more expensive than other SUVs of this size or make in terms of maintenance costs.
Were there any major recalls on the Chevy Trailblazer?
The main recalls on the Chevrolet Trailblazer were in the years 2002 and 2007.
The 2002 recall was for the passenger side air bag that could deploy with too much pressure or not at all, which would be a serious safety issue. The 2007 recall was about the replacement of the fuel tank on certain models because it had been found to leak gasoline in some cases while parked.
The last major recall on the Chevrolet Trailblazer was in 2015 and was to address the power steering issue on certain models. The safety of he vehicle was not compromised, but the Chevy Trailblazer would have a hard time turning or making tight turns.
What are the best alternatives to the Chevy Trailblazer?
If you are looking for a good size SUV, then alternatives to the Chevrolet Trailblazer include the Ford Explorer and the Toyota Highlander.
The Ford Explorer is a good alternative to the Chevrolet Trailblazer if you are looking for something that has less of an environmental impact than other SUVs, but it's not as spacious inside or as powerful. The Toyota Highlander also provides similar levels of power and fuel efficiency while still offering more space.
What year did Chevy stop making the TrailBlazer?
The final year of production for the Chevrolet Trailblazer for the North American market was 2009.
The following year, the company released its new Chevy Colorado and GMC Canyon models which are midsize pickup trucks that offer an alternative to traditional full-size pickups like Ford F150s . The Trailblazer was also replaced by a smaller model with less features called the Chevrolet Equinox in 2009.
Conclusion
In summary, the Chevrolet Trailblazer is a great SUV for long trips across the country. It is relatively inexpensive to maintain and repair, as long as you ensure that any instrument cluster faults have been fixed.