Parents who have enjoyed their childhood riding on single ATVs now want their children to enjoy this thrilling adventure too. There is no denial about the fact that side-by-side UTV's, ATV's and dirtbikes are taking the market by storm. According to some exclusive research conducted on the off-road vehicle, the market shows that by 2024 this market will reach USD 28 billion or more. 
Once considered as a measly work tool that was dedicatedly used to carry fertilizers around the farm back in the days are now being used for power sports and recreational activities. It is exhilarating fun and many families have adopted it as their favorite pastime and obviously, there is no denial as to why. Side-by-Side UTV's for are relatively much safer as well as affordable too. If you have a big family you need not worry. Side-by-side UTV's have many models in the market that offer seats where 4 people can comfortably and easily enjoy the ride. 
If you are looking forward to buying a Side-by-Side UTV For a family then you are in the right place. Here we provide detailed information about the best Side-by-Side UTV For Families and we hope that you find the answer to all your questions.Keep on reading to find out more.
What to Look for When Buying a Side-By-Side Utv If You Have a Family With Kids
The key safety features of side-by-side UTV's are:
Safety equipment: 

If you are riding a UTV with your family the first and foremost thing to bear in mind is the security and the safety of your family. 

Get trained: 

Riding UTV's is not that easy if you are new to this. You should definitely get professionally trained before going out on a ride with their family.

Trail Debris: 

You should know that this off-road vehicle can easily be penetrated by debris and obstacles like rocks, stumps, branches, etc which in turn may result in unfortunate accidents. Therefore make sure that you check your trail before you start a drive with your family.

Proper Accessories and installation:

Adding Accessories to your UTV makes your experience way better and increases safety and security as well. You should make sure that the UTV is properly accessorized and that they are correctly installed.

Maintenance and servicing your machine: No vehicle runs well without servicing and maintenance. And with it being a UTV, it definitely requires frequent servicing and maintenance which in turn increases the safety of your family. Click here to see some of the most reliable UTVs.
Top Side-by-Side UTV for Families Reviewed
Polaris RZR S4 1000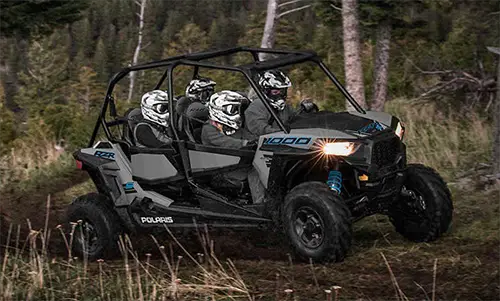 Polaris is one of the best side-by-side UTV for families and is one of the most trusted brands. The Polaris has a PVT transmission which is way better than the general CVT transmission and when it comes to comfort and roomy interior, the Polaris is definitely the best. 
However, the only drawback is the long-wheelbase which makes it a bit difficult to use in tight terrains, however, the Polaris RZR S4 100 is 33% more powerful than the previous version. (We look at the fastest UTV's in this article).
Designed with fully adjustable FOX Podium X shocks which helps provide a much smoother ride, the Polaris has some amazing features added to it as well.  Starting from the ground clearance which is around 12.5 inches, this power sport has bowed ¼ doors, electronic power steering, LED tail/brake lights, high-performance drive, Lock and Ride cargo system and many more useful features.
Priced at approximately $21,299, the Polaris RZR S4 1000 provides an excellent power-to-price ratio. 
Yamaha Wolverine X4
This four-seat recreational UTV class is the perfect UTV for families. Designed for all types of terrains, the Yamaha Wolverine X4 is one of the quietest and compact UTV available in the market. 
Designed with stadium seats, this UTV makes sure that the passengers sitting at the back enjoy a good view. The 847cc twin cylindrical engine in the center makes 80 hp and the X4 also had a low center of gravity. 
The Ultramatic transmission makes it one of the smoothest CTV in the market. Compacted with larger intake tract, larger 7.4-liter muffler, helical-cut gears, and rubber engine mounts make the Yamaha Wolverine X4 one of the quietest gas-powered UTVs in the market.
The versatile design and the self-levelling suspension help it to top the list of hunters and campers, as well as families. Priced at $15,999, the versatile Wolverine X4 should certainly be on your shortlist.
Kawasaki Teryx 4
When it comes to UTV's Kawasaki has the longest history. Starting from the Mule model to the evergreen Teryx line, Kawasaki has definitely upped their game this time. 
Offering a ground clearance of 11.2 inches, this UTV is a great option if you have a small family of four people. Backed by a three-year warranty, the Kawasaki Teryx 4 is designed with a 783cc engine. The CTV transmission also helps with automatic downhill braking. 
With an overall width of 61.6 inches, this UTV offers enough space for enough gear. The wheelbase of Kawasaki is slightly longer than the Honda and Yamaha but way shorter than the wheelbase of Polaris and Can-Am.
Designed with a higher towing capacity, the brake system of this UTV is simply amazing. The Fox Podium shocks can easily be adjusted to 20 different settings on the clickers and the dual-hydraulic discs with twin-piston callipers and the sealed wet brakes make it way better than a lot of other models available in the market.
Priced at $15,799, the Kawasaki Teryx 4 is among the top-selling side-by-side UTVs for families. 
Can-Am Maverick Sport MAX DPS
If you are someone who is into riding challenging trails in muddy conditions, then the Can-Am Maverick Sport MAX DPS is the number one choice for you. 
Designed with a performance-grade suspension system with Fox 2.0 Podium QS3 shocks, the width, and the power steering will make enhance your overall experience of this UTV. This UTV has four ErgoPrint seats and offers a premium ambience along with excellent ground clearance.
The additional footrest along with the grab bars of the passengers complements the vehicle and over 200 accessories are available to allow buyers the option to customize the UTV according to their individual wishes. The traversing trails assists in seamlessly crossing tricky trails and muddy sand. The ground clearance helps makes sure that the vehicle never gets bogged down.
Priced at $18,999, the Can-Am Maverick Sport MAX DPS is perfect for families that are adventure enthusiasts.