Jeep Wranglers are 4WD off-road SUVs that are highly known for their incredible off-road performance. While the iconic design, removable doors, and roof can be a plus point for the Wrangler, at the same time, the poor on-road handling can be its biggest turnover.
Modern-day Wrangler has a lot to offer; sophisticated powertrains to power-operated windows to in-dash navigation, a Wi-Fi hotspot, and many more. But you must consider this while getting one; are Jeep Wranglers good on gas? Well, that's definitely no! Let's get into details of it.
Are Jeep Wranglers Fuel Efficient?
'Inefficient' or 'Gas Guzzler' is probably the first thoughts that occur while getting an SUV. However, Jeep Wranglers are fortunate enough to break through this mold and offer drivers a high-powered and off-road-ready SUV that has proved to be fuel-efficient lately.
Jeep Wranglers have often outperformed their contenders in fuel efficiency. This boxy-size vehicle operates on both diesel and petrol.
So are Jeep Wrangler good on gas? Early Jeeps had roughly 13-18 mpg, depending on where you go and your driving abilities. Modern-day Jeep Wranglers can hover around 22-29 mpg city and highway. 
Jeep Wrangler Fuel Consumption
Jeep Wrangler is categorized into the Sport, Sahara, and Rubicon. It is available in different editions and a variant of two-door and four-door versions.
The first generation, Jeep Wrangler I is an all-wheel off-road drive that operates on petrol (gasoline). With a 4.2L AMC-six motor, this model integrates a five-speed manual transmission and can ride over 14 city/18 highway mpg. The four-cylinder motor can deliver better at 17/18 MPG. With the internal combustion engine, the power produced from this jeep is between 121 – 184hp.
Jeep Wrangler II (TJ) is a 4×4 drive that operates on petrol and has different fuel consumption, depending on the model type and economy (urban or extra-urban). This second-generation model is integrated with a 4.0L inline-six motor and has a maximum horsepower of 193hp. The torque produced is 225lb-ft. The fuel economy ratings for this jeep type is 14 city/17 highway mpg.
The 2007 Jeep Wrangler (JK) model is available with a powerful horsepower of 174hp and a 2.4L four-cylinder engine. With the combination of a six-speed manual transmission, the ratings for this model is 16/19 mpg. The Jeep Wrangler Unlimited (JK) also entered production in 2007. It received a 3.8L V6 motor, and along with the six-speed manual, these models produced 205hp and 15/18 mpg.
The 2012 JK models are equipped with a 3.6L V6 engine at 285-horsepower and 260lb-ft. of torque. The standard six-speed manual is available along with the new option of five-speed automatic transmission. With an automatic transmission, this model can achieve 16/20 mpg, while at the manual, it can achieve 16/21 mpg.
Jeep Wrangler JL is an off-road vehicle with a 3.6 V6 Rubicon engine and a standard 6-speed manual that is good at 17/23 mpg. With further updates in this 2018 model, a new turbocharged 2.0L 4-cylinder motor is introduced along with the 8-speed automatic. With these changes, it can produce 270hp and 295lb-ft. of torque. The fuel ratings are around 17/25 mpg.
Why are Jeep Wranglers Bad On Gas?
Often seen that Jeep Wranglers and fuel economy don't go hand-in-hand. Here, you need to wonder– are Jeep Wranglers good on gas?
Wranglers are the most inefficient vehicles when it comes to fuel. They are labeled to have a lower gas mileage. The two significant factors that contribute to the low mpg are un-aerodynamic style and the vehicle's overall weight.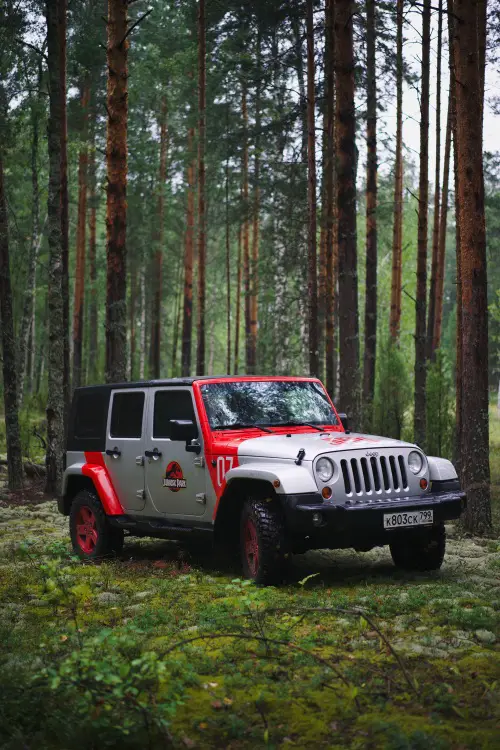 The aerodynamic design minimizes the drag force, wind noise, and other unwanted lift forces to drive swiftly against higher speeds. The Jeep's box shape makes it harder to cut through the air at higher speed, causing more gas to burn at a faster rate. Adding additional features can also affect aerodynamics and gas mileage.
The hood latches of the Jeep Wrangler can be troublesome. The rubber-made latches are malleable and hence flutter continuously if the air gets trapped inside and unable to escape. This will slow down the Wrangler's activity and eventually burn the gas quicker.
The jeep's noise when pointed downwards as compared to the rest of the body can also affect the gas mileage. It means that the higher the Jeep body, the lower an air vortex is created. Hence, decreasing the aerodynamic flow and burning more of the gas & power.
Apart from the aerodynamics, the overall weight of the vehicle also matters. The average weight of the Jeep Wrangler is between 3970-4449 pounds. The steel and high-strength aluminum used for the Jeep's body, bumpers, flares, and the tire size contribute to the Jeep's weight. Remember that every extra pound loaded can hurt the fuel economy. Therefore, using alternatives can significantly help in the aerodynamics and positively affect a vehicle's fuel economy.
Conclusion
To conclude, now you know what to expect and consider when buying the Jeep Wrangler. Always remember that before paying extra bucks, it's worth some serious reflection. Although it might be a go-to SUV for you to go on weekend adventures for fuel-conscious drivers, this Jeep Wrangler will be a poor choice due to its low-reliability ratings and substandard fuel economy.